For many reasons it can be necessary to configure an Exchange Server to receive and send mail for an additional domain name. You could be changing domains, adding an additional trading name for our company or simply merging with another organisation. Or like me and other IT Consultants you could be hosting your own Exchange Server and providing your customers with access to hosted Exchange as part of your service.
This guide will give you all the details required to configure your Exchange Server to send and receive for an additional domain. Correctly!
Step 1 – DNS
DNS is an important requirement when it comes to configuring any e-mail server to send/receive email, not just Exchange. More and more companies are checking for correctly configured DNS to verify that you are who you say you are and to evaluate whether to accept your emails or not.
I am not going to cover the primary DNS configuration in detail as it's covered in my article here:
https://www.experts-exchange.com/Software/Server_Software/Email_Servers/Exchange/A_2370-Exchange-DNS-Configuration.html
However, as long as you have your primary sending Domain Configured correctly, ie:
A Record = mail.domain1.com which is set to your Exchange Servers external IP address
MX Record for domain1.com = mail.domain1.com
rDNS record = mail.domain1.com
Notice they all match? This is important. Some anti-SPAM solutions will check this.
So how do we accept email for another domain name? It's surprisingly easy, as long as the above is configured properly then all we need to do is create a new MX record in domain2.com DNS and configure it to use the A record mail.domain1.com.
The reason for this is because you can only send out of your network using a single IP address (this is a limitation of most routers/firewalls). When the receiving mail server receives your email it will check the header information to see where it came from, and then do a reverse lookup to confirm that the IP address is valid/not on a blacklist/not dynamic (in a lot more cases) and has a valid rDNS entry.
So just because you are sending an email from an additional domain doesn't mean you have to add another entry to your rDNS, this will just confuse the issue and cause false positives on SPAM systems. Keep it simple.
Step 2 – Accepted Domain
Now that we have our DNS configured correctly we need to tell Exchange that it is allowed to accept mail for this domain. To do this using the Exchange Management Console navigate to Organisation Configuration > Hub transport. In the Actions pane on the right hand side select
New Accepted Domain
. This will start the wizard (screen shot below).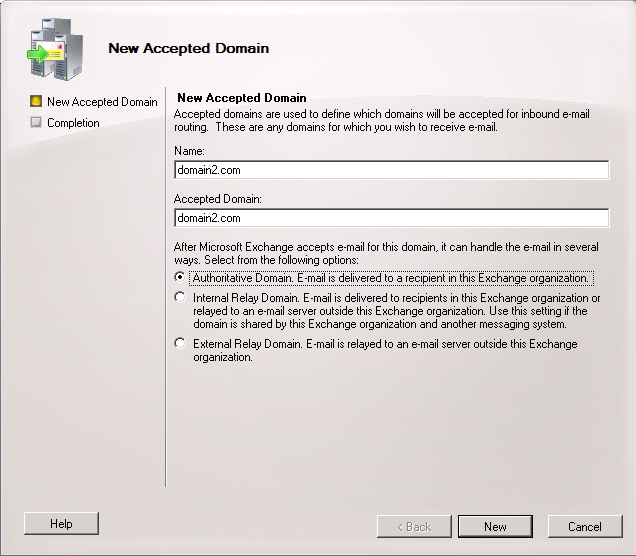 The name of the Accepted Domain doesn't matter; this is just a descriptive comment to help you identify it easier. Enter a name and then an Accepted Domain; this is the actual domain name that you want Exchange to receive mail for. Then click New and Finish.
That's it, Exchange will now receive mail for that domain, however, until we setup some recipients to receive for that domain mail will be rejected as recipient unknown.
Step 3 – Recipient configuration
The next step of configuration is to setup an email address policy and create mailboxes with the correct email addresses.
My preferred method of achieving this is to create the users in a separate OU within Active Directory and applying the Address Policy to this container. This ensures that when you create a new mailbox and place the user in this container it will be given the correct address information.
Using Exchange Management Console, navigate to Organisation Configuration > Hub Transport and in the Action pane on the right select New e-mail Address Policy. This will start the wizard as shown below.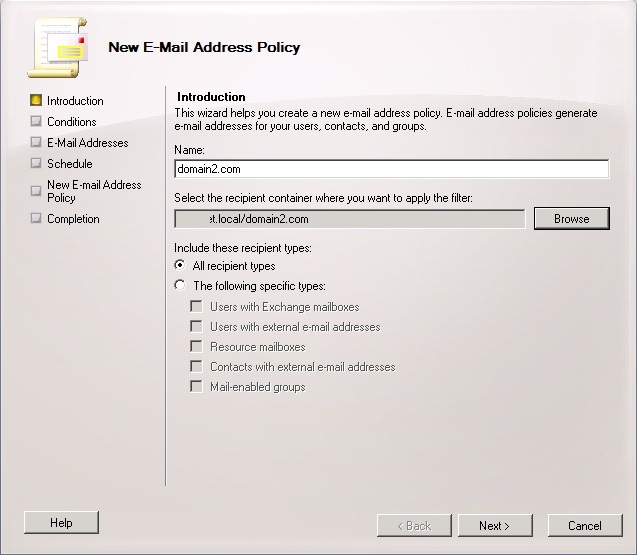 Enter a name and select the OU using the browse button where you will place the users. Then click Next. On the following screen (shown below) we have the choice to enter a particular value to search on the users to evaluate the email address policy. As we are placing the mailboxes in an OU of their own we don't need to worry about this screen. Just click Next.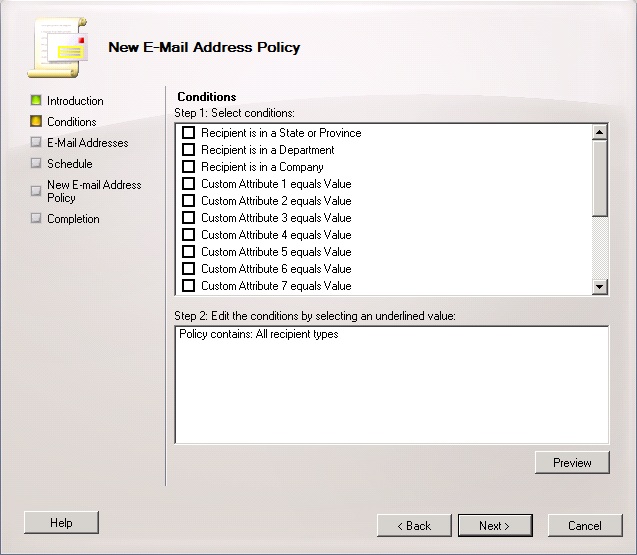 On the next screen we specify the email address we want to apply to these mailboxes. Click the Add button and then select the domain and the format of the email address (as shown below). Once done click OK and then Next. Click next and then New to finish the wizard.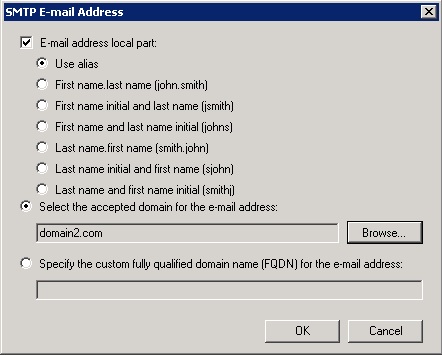 Step 4 – New Mailboxes
The final stage of the process is to create the new mailboxes. Now that we have everything else in place this bit should be very straight forward.
Using the Exchange Management Console, navigate to Recipient Configuration and Mailbox. In the Action Pane on the right hand side select New Mailbox. On the first screen select User Mailbox and click Next. Select New User and click Next.
The following screen (image below) is where we enter the details of our new user. Importantly we need to use the browse button to select the Organisational Unit where our new user will be placed.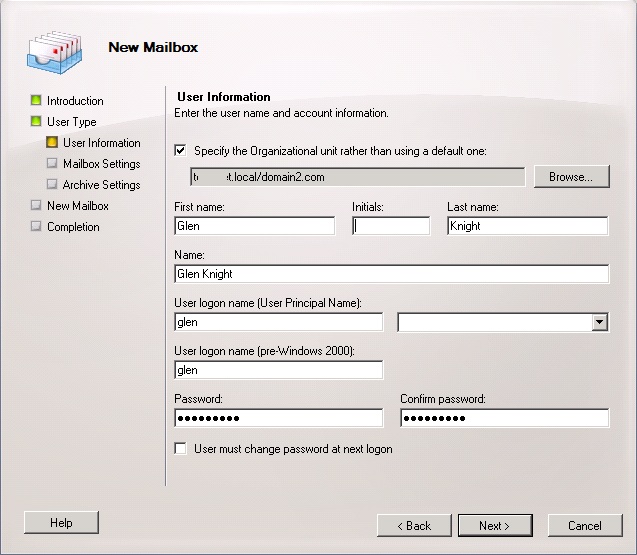 Once done click Next. On the following screen specify the Alias of the user and if required any policies you have configured along with a different mailbox store if you are keeping these users in a different database. Once done click Next and then Next again and new to finish the process off.
Step 5 – Checking the detail
Now that's all done it's always nice just to check your work and confirm the recipient is configured correctly.
To do this right click on your newly created user and select properties. Under the email addresses tab (image below) you should see the email address created manually for your new domain in the format you specified in Step 3.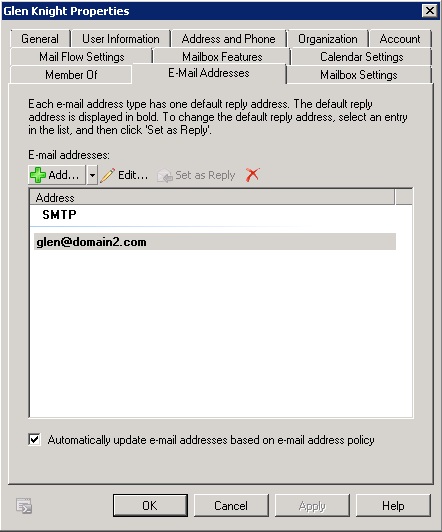 =-=-=-=-=-=-=-=-=-=-=-=-=-
=-=-=-=-=- =-=-=-=-=- =-=-=-=-=- =-=-=-=-=- =-=-=-=-=- =-=-=-=
If you liked this article and want to see more from this author, please click the Yes button near the:
Was this article helpful?
label that is just below and to the right of this text. Thanks!
=-=-=-=-=-=-=-=-=-=-=-=-=- =-=-=-=-=- =-=-=-=-=- =-=-=-=-=- =-=-=-=-=- =-=-=-=-=- =-=-=-=

Written by Glen Knight (demazter) as part of a series of how-to articles.