1) Find the ~3' USB cable and plug the small end into the BlackBerry.
2) Take the larger rectangle end of the USB cable and plug it into an available USB port on your laptop. (Note: Make sure your laptop is started up before you plug in your BlackBerry, as it may try to boot to your BlackBerry).
3) Make sure your BlackBerry is unlocked.
4) Shortly after making sure your BlackBerry is unlocked find "VZAccess Manager" on your desktop and double-click it. You will see the VZAccess Manager software load and it will attempt to detect your BlackBerry.
5) When the software sees your BlackBerry, it will likely prompt you to enter your password several times on your laptop in a window that looks like the one below. Make sure your BlackBerry is still unlocked.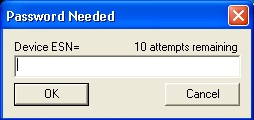 6) After the prompts for your password are gone, click on "Connect" down in the bottom right hand corner of VZAccess Manager. Verify that you have an adequate signal as indicated by the green bars under the signal column, and that your BlackBerry model is shown to the left of the connect button. The BlackBerry model # being shown means that the BlackBerry is recognized.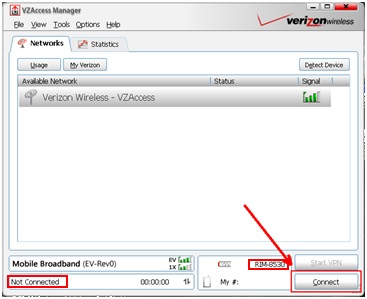 7) Shortly after clicking "Connect," you may see a window like the one below. Click on "Don't show this message again" and then click "Continue".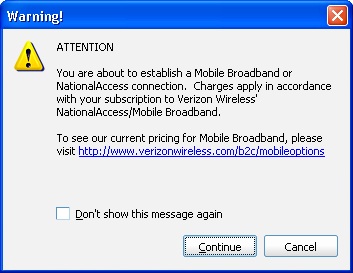 8) There will be a temporary window pop up showing that VZAccess Manager is gathering usage information. This window can be ignored as it will close automatically after a few seconds.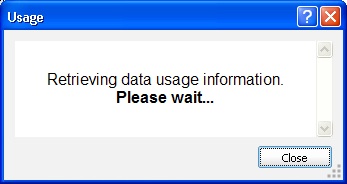 9) After the usage window disappears a window like the one below may appear. Here you can just click "close".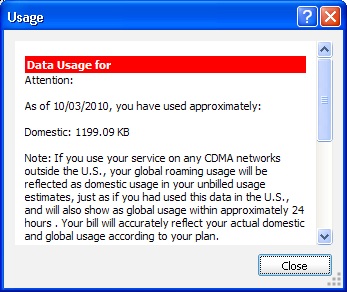 10) Once you connect the prompt in the bottom left of the VZAccess Manager software will change from "Not Connected" to "Connected". As you open Internet Explorer your home page may fail and look like the window below if it is going to an internal VA site.
That is fine and normal
; now you can type in any address (i.e.
www.google.com
,
www.cnn.com
,
www.bing.com
, etc) to access the web.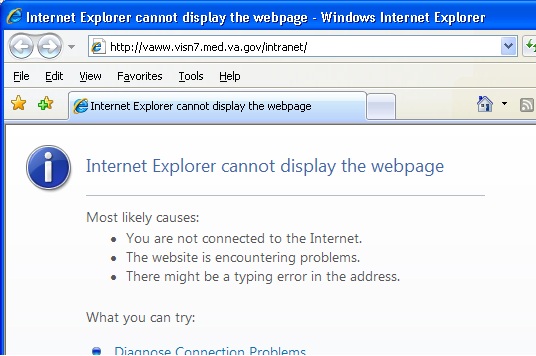 11) Once you are done you can simply close VZAccess Manager and unplug your BlackBerry.