For those of you actively in the Malware fightling business, we now have available an amazing new tool in the malware wars (first recommended to me by
rpggamergirl
, the Zone Advisor for the Virus and Spyware Zones).
This tool IS easy enough for the casual user to implement, but be careful if you do - and you should always post your questions right here on EE, if you need additional help.
The purpose of this Article is to provide some basic usage and reference information about a tool developed by EE Expert "Tigzy".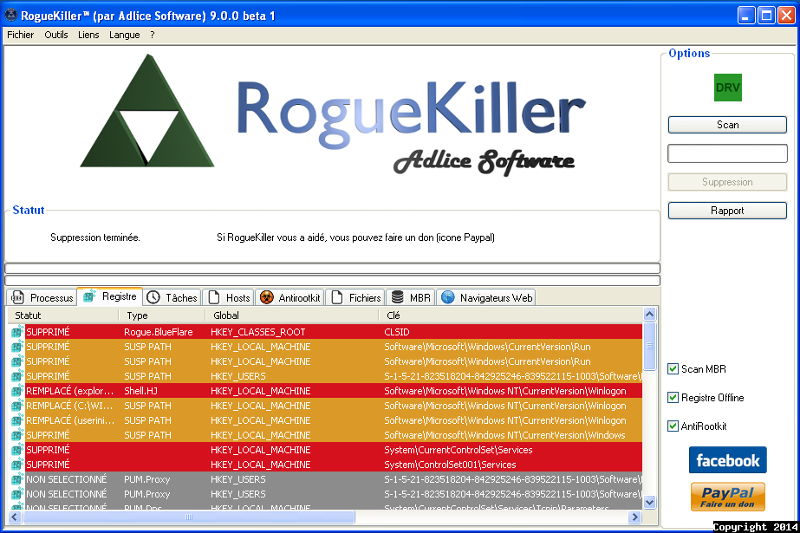 I have tested it on Windows XP (SP3) and Windows 7 Ultimate (SP1) systems and have been very impressed. It is quick, easy, and effective – AND – it addresses many of the most common sets of "after" symptoms once the malware repairs are done (HOSTS file, Proxy, DNS, etc).
First the basics and link information.
Lien pour ceux qui parlent Français:
http://www.sur-la-toile.com/RogueKiller/
Link for the rest of us:
http://www.geekstogo.com/forum/files/file/413-roguekiller/
[Current version on 17 JUL 14 is 9.2.3]
The usage instructions are as simple as:
1 – Download the file RogueKiller.exe to your desktop, and
2 – Double-left-click on the file (right-click, then Run as Administrator for 7 and Vista).
At this point a "pre-scan" will complete and a list of options will appear along the right-hand side. Start by scanning your system and then select the "Delete" button for anything it finds.
Note that there are four additional "Auto-Fixes" for some of the most common symptoms of malware problems. If you move your mouse pointer over each of these, a brief description of what it does will appear. Select any that apply to your situation.
Note that the developer does recommend a follow up scan with other anti-malware applications – with my number one recommendation being Malwarebytes.
Download program: (MBAM -
http://www.malwarebytes.org/
)
Download update: (
http://data.mbamupdates.com/tools/mbam-rules.exe
) - If needed.
For those of you familiar with fighting malware, please note that this application has the ability to identify and STOP malware processes before it starts repairing/fixing the problems. For all of us who had to previously run other applications (Rkill, etc.) this is a significant advantage.
As this application develops, I will update the Article and I invite all the malware fighters out there to post additional information/comments as needed.
Some other valid Articles here on Experts-Exchange that I highly recommend you read are:
2012-Malware-Variants
MALWARE - "An Ounce of Prevention..."
Basic Malware Troubleshooting
Stop-the-Bleeding-First-Aid-for-Malware
Latest-Malware-Threat-Windows-Stability-Center
Viruses in System Volume Information (System Restore)
THINGS YOU NEED TO DO WHEN YOUR PC IS INFECTED:
IF YOU CAN'T RUN .EXES IN AN INFECTED SYSTEM:
Can't Install an Antivirus - Windows Security Center still detects previous AV:
HijackThis - Some Tips & Tricks:
HijackThis reports missing files on 64-bit Systems:
"Google Hijack" - Google Search Gets Redirected:
RKreport.bmp