The purpose of this Article is to provide information for a newly released variant of malware – with the assumption that many EE Members will have need of the information.
According to "Computerworld", well over one million web sites have been compromised with an SQL injection cyberattack known as "LizaMoon".
http://www.computerworld.com/s/article/9215428/Millions_of_sites_hit_with_mass_injection_cyberattack
That number of infections was as of April 1st (a favorite day for new malware releases), 2011, so we can be assured that the number is much higher by now.
The resultant infection is known as "Windows Stability Center".
When infected this is the image you will see on your monitor: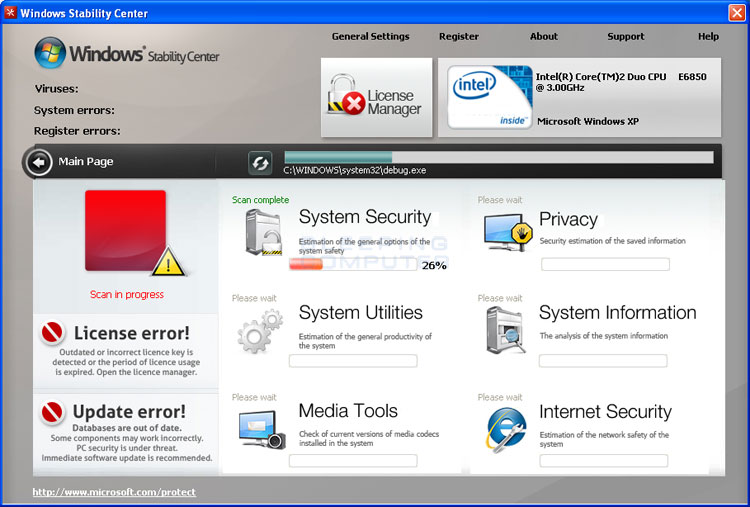 This infection is yet another version of the common "Scareware" or "Ransomware" infections.
To repair this infection, you will need three free (downloadable) tools.
RogueKiller:
http://www.geekstogo.com/forum/files/file/413-roguekiller/
OR
RKill:
http://www.bleepingcomputer.com/download/anti-virus/rkill
Shell.reg:
http://download.bleepingcomputer.com/reg/shell.reg
Malwarebytes:
http://www.bleepingcomputer.com/download/anti-virus/malwarebytes-anti-malware
The safest method for getting the files you need is to download them from a clean computer and then burn them to CD (or USB stick if you don't have that option).
If you don't have another computer, you can download the files you need after the fake scan is completed.
Complete (detailed) instructions for repairing this infection have been written by "Grinler" at:
http://www.bleepingcomputer.com/virus-removal/remove-windows-stability-center
Please read the instructions carefully and print them out before starting the process.
I will monitor this Article for any comments from our Members needing additional help.
If you are fighting this infection, please post a link to your EE question and we will do all we can to help you make the repairs you need.
Other recommended EE Articles:
MALWARE - "An Ounce of Prevention..."
Basic Malware Troubleshooting
Rogue-Killer-What-a-great-name
Stop-the-Bleeding-First-Aid-for-Malware
Rogue-Killer-What-a-great-name