Getting information about Fonts being used in a PDF file
A colleague of mine recently faced an issue related to the PDF file format.
The PDFs were containing mission critical client information, they were successfully mailed but there was a small problem.
The received PDF would open up correctly in the reader application, but rather than the original fonts, some un-intended fonts were substituted instead.
The issue was due to the fact that my friend was using the non-generic fonts available on his local system and not embedding them (without realizing this would cause any issues though!).
This created disparity in the originally intended and the viewed PDF documents and also lead to lots of confusion between the affected parties.
Now, he asked me for help in getting the information about the various fonts being used in the PDF, so that he would rather use a generic font which would not have the danger of being substituted and the PDF should appear as intended at the client's location.
I thus decided to get a small article in place for anyone else who may be facing a similar problem.
In order to just find the fonts which are being used by the PDF, using the normal Adobe Reader, do the following steps: -
1. Open the file in Adobe PDF Reader;
2. Select File->Properties
3. On the resulting Dialog, choose the Font tab.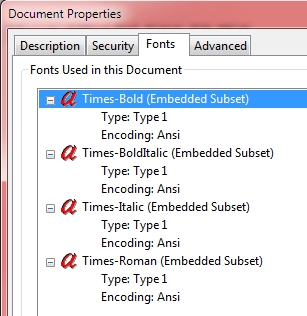 You will see a list of fonts. The ones that are embedded will be having this status in the brackets '( )' behind the font name.
But what to do if you need to identify fonts used by the specific areas of text in your document?
Finding this would require Adobe Acrobat Professional and below I am listing down the solution I used for the same.
Follow the listed steps to get font related information –
1. Fire up the Adobe Acrobat Pro application;
2. Open the PDF in question.
3. Navigate to the location TOOLS Menu -> Advanced Editing;
4. Select the "TouchUp Text Tool";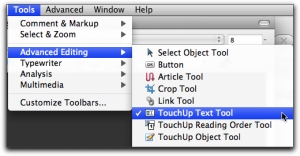 5. Click and select the text you want to verify for the font information;
6. Highlight the portion of the text and right click to bring up a menu. Select "Properties"
7. Information about your font should be displayed under the "Text" tab, including the font name. Easy!
The pre-requisite for this solution is the availability of Adobe Acrobat Professional 7 or higher, as only these versions contain the advanced editing functionality we require for this solution!
To avoid the problem, the original fonts used in this document could have been embedded in the file itself.
How to embed fonts in a PDF can be referred in the below links –
-
http://www.ehow.com/how_4814067_embed-font-adobe-pdf-file.html
-
http://www.prepressure.com/pdf/basics/fonts
This Font-finding solution would come handy if you are using / viewing / printing a PDF containing non web-standard fonts.
Feel free to post back any comments / suggestions about alternate solutions!