The "Notification Area" is that area on the righthand side of the Taskbar where your system clock resides, and probably a large number of other icons. It used to be called, prior to Windows XP, the "system tray." Programs just love to install an icon there, to supposedly speed up access to their features. You doubtless have a lot of not very useful icons there, which can sometimes be removed by selecting an option or preference from the menus of the associated program. And in XP and Vista, you can right click the Taskbar, select Properties from the context menu that scrolls out, click on the Notification Area tab, and then perform various operations in order to "hide inactive icons."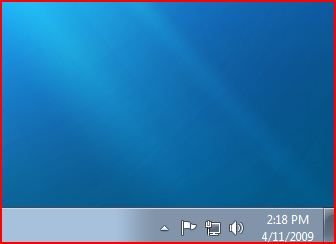 This situation has improved a lot in Windows 7. By default, there are only four icons that will appear in your Windows 7 taskbar notification area: the Sound icon (so you can adjust the volume of your speakers or mute them), the Network icon (so you can perform maintenance tasks concerning your network connection), the Battery icon (if you're running Windows 7 on a laptop) to tell you how much charge is remaining to your pc's battery or whether it's charging if you are running your laptop plugged into a wall outlet, and an icon connected with a new Control Panel applet called Action Center. If you have any other icons in the Notification Area (such as one for your antivirus program, for example), they will usually be found by clicking the little upward-pointing carat to the left of the Action Center icon, which causes a small popup window to be shown. If you want to see any of those icons in this popup window in your Notification Area instead, you can just drag them down there.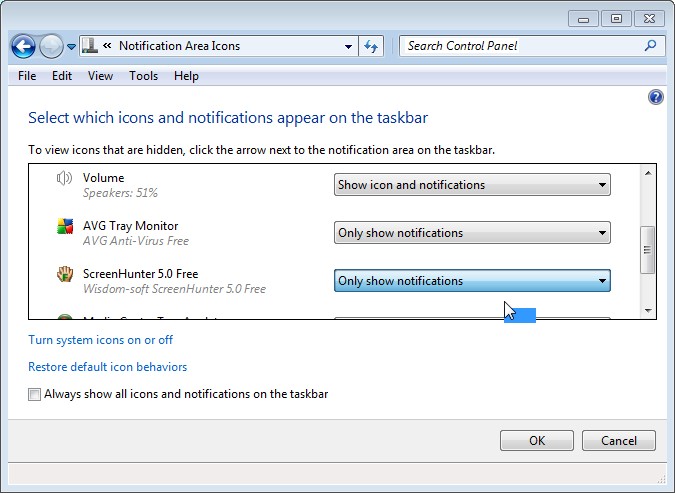 The Action Center icon will normally handle all those notification messages coming from the system when some program thinks you need to take an action of some kind, for example: download important updates from Microsoft Update, or perform a scan with Windows Defender, or download the most recent antivirus data, etc.
In Windows 7 there is now a new Control Panel applet called Notification Area Icons, which takes the place of the corresponding tab of Taskbar Properties in Windows Vista, XP, and previus versions. When you go to that Control Panel applet, you will be shown a list of each of the Notification Area icons, and for each one you can use the "list box" next to it to choose one of three possible settings:
- Show icon and notifications
- Hide icon and notifications
- Show only notifications.