Vista's Magnifier was a tool that could be turned on in the Ease of Access Center so that things on the screen could be seen more easily. The Vista tool showed you a magnified view in a window of what you were pointing at with your mouse. But the magnified view was shown in a separate window. Apparently, if the pc doesn't support the Advanced Aero needs of Windows 7, the Vista Magnifier program is used, for this is what happened when I loaded the Beta of Windows 7 onto a virtual machine using Microsoft's Virtual Pc 2007.
The following screenshots are of the Vista Magnifier. First there is a setup window you use when you first start the Magnifier tool: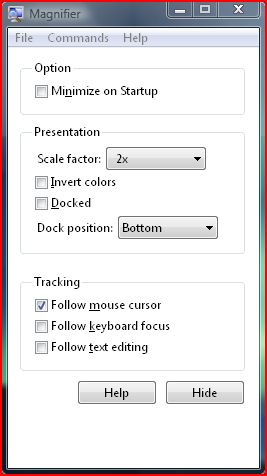 Then the following screen image is what the Vista Magnifier looks like on the desktop when it is running: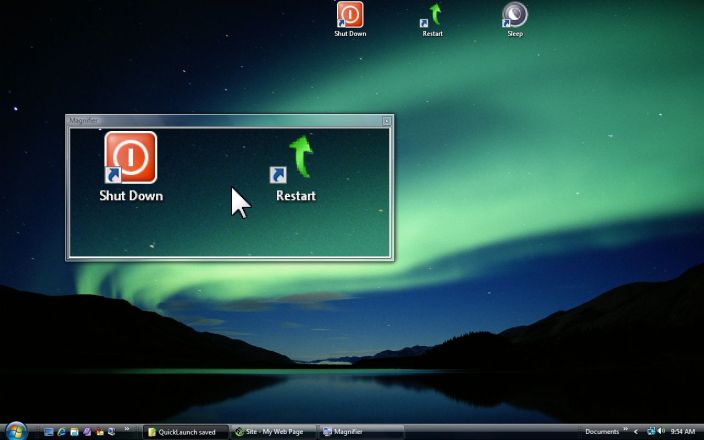 The new Windows 7 Magnifier, which can be very easily brought into execution by typing Magnifier in the search bar at the bottom of the Start Menu, works very differently. It has three modes: Full-screen mode, Lens mode, and Docked mode. You use Full-screen mode if you want to magnify everything on your screen at once. You use Lens mode when you want to magnify a small part of the screen which follows your mouse cursor. In Docked mode, only a part of your screen near an edge of the screen is magnified, with the rest of the screen remaining unchanged.
The controls for zooming in and out are on a small toolbar that fades away to a watermark on the screen when you aren't using it. (In the screenshot below, it is shown as a blurry magnifying glass image. If you click that "watermark" it will display a window with the controls for the tool.) There are also keyboard shortcuts for zooming in (Windows key and +) or zooming out (Windows key and -). If you click on one of the borders of the lens, you can drag it to resize it, making the lens wider or more narrow, or taller or shorter. Below is a screenshot of the Windows 7 Magnifier in use on the desktop: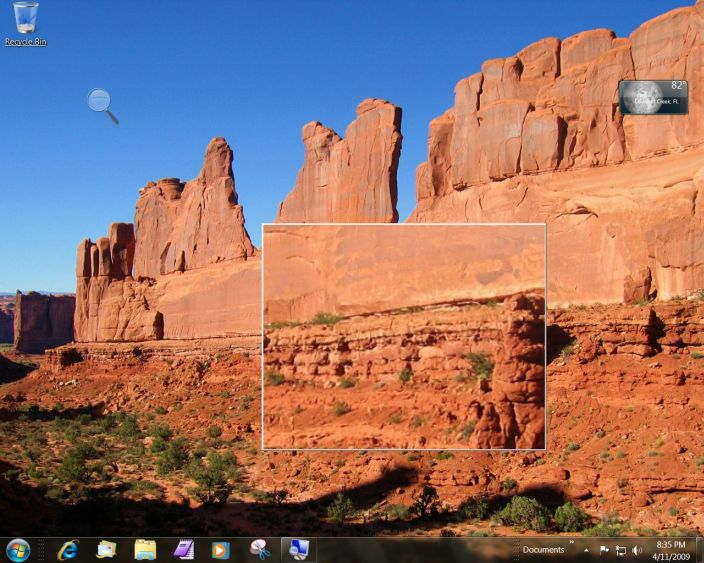 Here is a Microsoft article, complete with an embedded screen movie, on using this tool:
http://windows.microsoft.com/en-US/windows7/Make-items-on-the-screen-appear-bigger-Magnifier