[Part 5 of a 6 part series called
SEO Basics: 5 SEO Secrets for Creating Content that Drives Traffic
]
Ever heard of Google Panda? Well, if you haven't, you can read more about it
here
,
here
and
here
. Basically, it's Google's latest significant update to their algorithm update that rewards sites with quality, valuable, engaging content and punishes sites that, well, don't.
With that in mind, making sure your content is a valuable resource is more important in the SEO world now than ever before. But outside of making sure the content you are actually writing is stellar, what else can you do to make it a resource?
I'm glad you asked. Let's discuss a couple really easy ones
In-Content Links
Ever read anything on Wikipedia? They do the best job of in-content links than any site on the internet, period. In-content links are links that show up throughout your content that link to relevant, related content from your site or other sites.
The goal of these links is to provide additional context to a term or concept you are using in your content that you don't want to have to expand upon. By providing these links, you increase the value of your content because you help point the people reading your content to other high-value pages that help them continue in their research.
Takeaway:
Links in your content carry high trust and authority.
Additional Resource Lists
Another easy way to add value to your content is to list additional resources for people to read at the bottom of your content. Similar to in-content links, these links provide additional value to whoever is reading your content and gives them a place to go to find our more information.
Here's an example from Search Engine Land.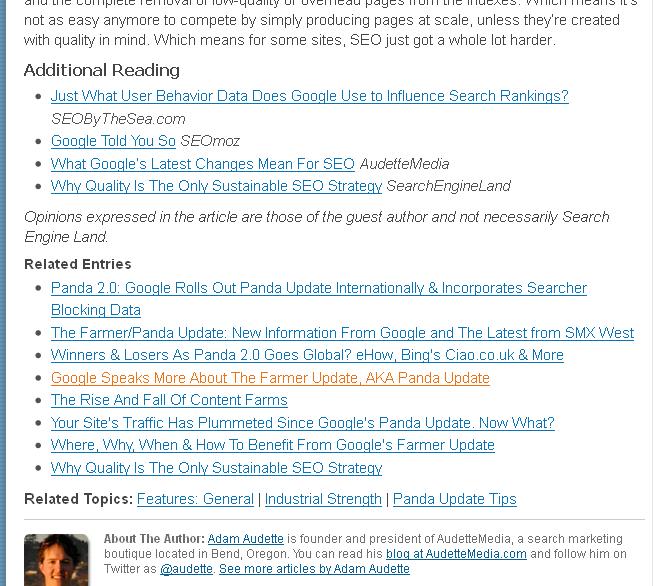 All of these links will not only make your page more valuable to your readers, but it will increase the chance that they spend more time on your site and avoid the dreaded bounce-back to Google.
You're almost there… but you're not quite done yet!
NEXT CHAPTER:
Sharing your Content – Because Links are SEO Gold!
All Chapters
Introduction:
SEO Basics: 5 SEO Secrets for Creating Content that Drives Traffic
Secret #1:
Tools for Success – In-Depth Analysis Made Easy(er)
Secret #2:
Keyword Placement – Positioning is Everything
Secret #3:
Keyword Variation & Relation – Because 'Other' Keywords Matter, Too!
Secret #4:
Making Your Content a Resource – Going Above and Beyond
Secret #5:
Sharing your Content – Because Links are SEO Gold!