I picked up that there is a lot of questions on Expert Exchange relating to Global Address Lists (GAL's) not updating so I thought that I would create this article to show you how to manually update the Global Address List and verify that it is indeed updating:
WHEN WILL YOU USE THIS ARTICLE
1. Outlook Address List not showing newly created users or contacts
2. Users not receiving latest contacts in cached mode
UPDATE GLOBAL ADDRESS LIST USING EXCHANGE MANAGEMENT SHELL (EMS)
The identity can either be "Default Global Address List" (As specified below) or Any other specific address list that you would like to update
Update-GlobalAddressList -Identity "Default Global Address List" -DomainController "YourDomainControllerName"


                      
NEXT OPEN EXCHANGE MANAGEMENT CONSOLE (EMC) BY DOING THE FOLLOWING:
1. Connect to your Exchange Server using RDP or any remote application
2. Now
click on start
and type
Exchange Ma
3. And select Exchange Management Console from the list

NOW WE WILL START THE UPDATE PROCESS, PLEASE DO THE FOLLOWING:
1. Now Expand Microsoft Exchange > Microsoft Exchange On-Premises > Organization Configuration > Mailbox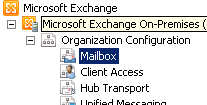 2. Now Select the Offline Address Book tab
3. Locate your Default Offline Address book and
Right Click
on it then select
Update
. You can also click on the Update link located in the Action pane on the far right after highlighting the Default Global Address List.

4. You will receive the following message, just
select Yes

5. Now we will need to verify that the update actually took place (Keep in mind that you would have to give the update about 10 minutes to ensure that it has completed)
6. Browse to C:\Program Files\Microsoft\Exchange Server\V14\ClientAccess\OA
B\<Address List ID>
7. Now have a look at the "Date modified" attribute of LZX files. (It will still contain an old date!)
8. To have it update do the following:
8.1 Click Start > Administrative Tools > Services
8.2 Locate the Microsoft Exchange File Distribution service
8.3 Now Right Click on the service and select Restart


9. Now go back to C:\Program Files\Microsoft\Exchange Server\V14\ClientAccess\OA B\<Address List ID>
10. Verify that the Date Modified is today's date:


11. This means that your Offline Address Book has now been updated, next we will update the clients Address Book and confirm that they have the latest one.

FORCE OUTLOOK TO UPDATE THE OFFLINE ADDRESS BOOK
1. Close Outlook and Re-Open it
2. Select the Send and Receive tab
3. Locate Send/Receive Groups
4. And finally click the Download Address Book to download latest copy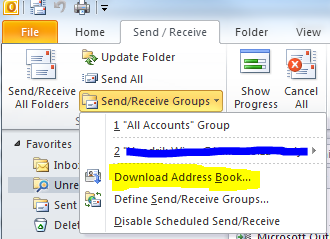 IF OUTLOOK STILL DON'T HAVE THE UPDATED LIST, TRY THE FOLLOWING
Try deleting the user's oab files then have the user re-download the Address Book.
1. Go to C:\Users\username\AppData\ Local\Micr osoft\Outl ook
2. Delete all files with .oab
3. Now follow the steps in " FORCE OUTLOOK TO UPDATE THE OFFLINE ADDRESS BOOK" to download the address book again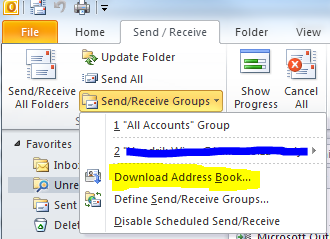 Finally please rate this article or leave a comment if this was helpful??

Regards,
Hendrik Wiese