I had a question today where the user wanted to know how to delete an SSL Certificate, so I thought that I would quickly add this How to! Article for your reference.
WHY WOULD YOU WANT TO DELETE A CERTIFICATE?
1. If an incorrect certificate was installed on your machine
2. If you get a certificate error stating that your current certificate is corrupt.
3. When testing certificates in your environment, and thus need to delete the temporary installed certificates.
SO IN THIS EXAMPLE I WILL WANT TO LOCATE THE FOLLOWING CERTIFICATE AND PERMANENTLY DELETE IT:
Certificate Name: Go Daddy Class 2 Certification Authority
TO BEGIN LETS OPEN MMC BY DOING THE FOLLOWING
1. Click
Start
>
Run
(or press the windows key + R on your keyboard) and
type
in
MMC
2. Press
Ok
(hit enter on your keyboard)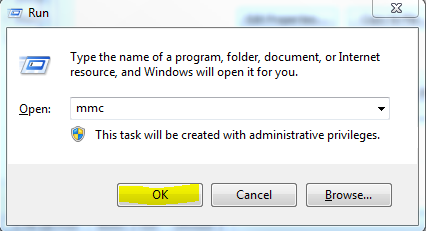 3. Now
click
on
File
>
Add/Remove Snap-in...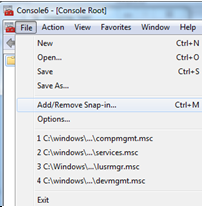 4. In the
"Available snap-ins:"
locate
Certificates
and click the Add button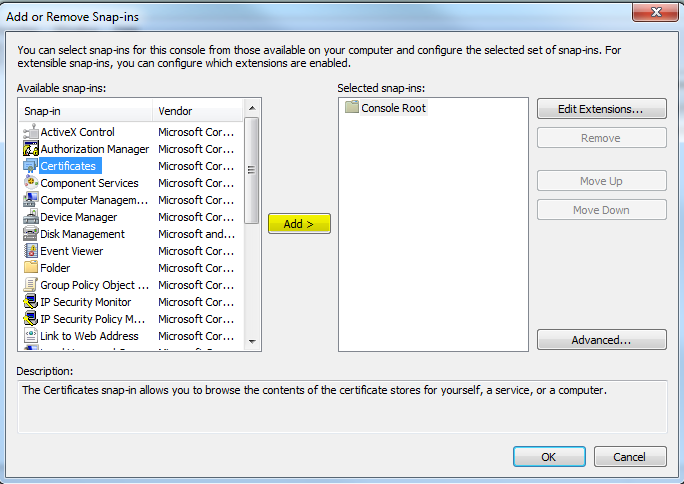 5. In the Certificate snap-in window
select Computer account
and hit
next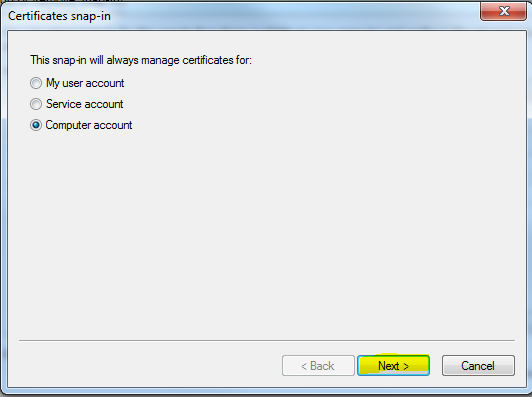 6. On the Select Computer windows leave the "Local computer: (the computer this console is running on)" selected and click Finish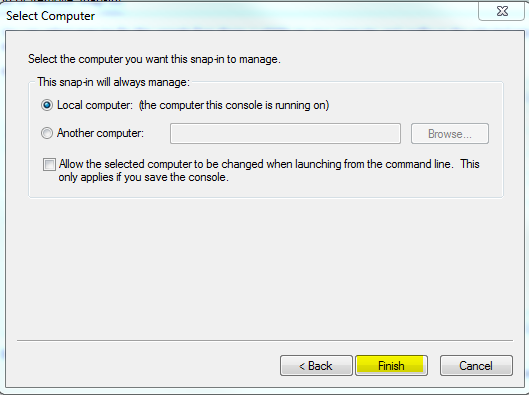 7. Your updated snap-in window should now have the
Certificate (Local Computer)
in the
"Selected snap-ins:"
column of the window, so it should look like the following image. On this window
click OK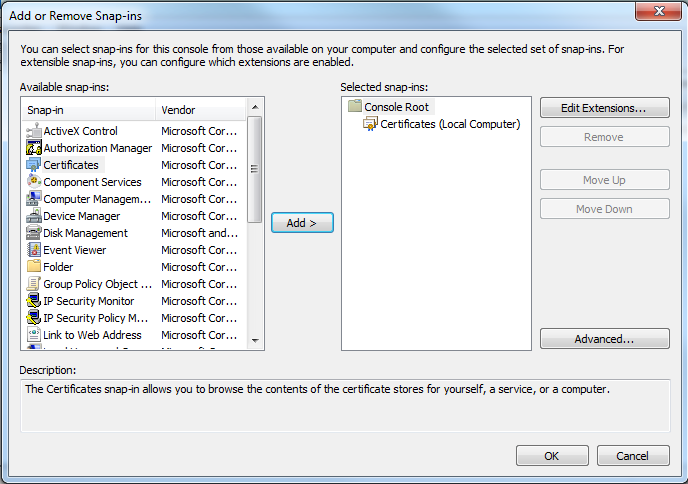 8. In my case the certificate was installed in the Personal tree object or folder as referred to by some. But please go through all the sub folders to ensure that the certificate that you are trying to delete is deleted from all the folders that it resides in. To delete the certificate in question (In my case "Go Daddy Class 2 Certification Authority") do the following, locate your certificate > right click on it and click on delete.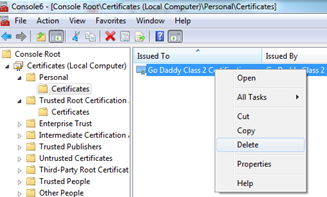 9. Next a Certificate warning window will be presented for you to confirm the deletion of your certificate, it will look like the below window. Simply click
Yes
to confirm deletion:

Your certificate has now been deleted. That concludes this tutorial. Please let me know should you have any questions or would like me to add anything to this article.
Please rate this article or leave a comment if it was helpful?
Kind Regards,
Hendrik Wiese