So many times I have seen the words written in a question "if only I could show you" or " I know how hard it is for you since you can't see it" in any zone.
That has inspired me to write about this tool in windows 7 called "Problem Steps Recorder".
I haven't as yet seen any mention of it here however some windows 7 users may already know of it. Another reason I guess to upgrade to Windows 7 as well. Of course Experts Exchange's foundation is assisting members to diagnose and help them fix their problems , how simple and informative would it be to use this tool to illustrate and explain away most problem/s?
Well, you can record your screens and after reading this you will know how. To be able to "show" your issue we should be able to help you quicker and more accurately. That is why I am writing the Article so everyone has more choices. You be the judge !
Ok lets go. To access it the first time simply open the run / win+r key and type in
psr.exe
press enter.
It will be listed at the top under programs as psr.exe. You can either just run it from there or add it to your Taskbar. For easy access I chose to have it pinned to my taskbar. To do this where it is listed in the windows search under programs>right click it and add to taskbar.
Now the next step is to bring up the area you want to illustrate onto your desktop, be it either a web page or a program throwing an error, CMD prompt illustrations, colour issues anything that can be shown on your desktop is the work area, bring up the Problem Steps Recorder/run it. Then hit the record button. It will take the first screen shot of the entire desktop ( it will look greyed out but there is a reason for this and I will explain it later) .
NOTE : Also now is the time to please be aware of any personal or private information on your desktop as this will be included in this screenshot. Move it away or hide it.
Then I click the " add a comment " During the add a comment " note" the message asking you highlight the area, highlight the area on your desktop or within the program or web browser to illustrate it add in your references and a brief explanation press ok and then continue.
Each time you click the mouse it takes another snapshot and you have the option to add another comment. You will see a small red dot appear on the right hand side for each snap taken. Be aware that each click adds another snapshot which inturn adds to the overall size. Keep the clicks to minimal where possible and use the add comments to explain it instead.
As it is not a continuous recording only a screenshot, it gives you time to take in what you want to show and write up about it. You can do other things by pausing it as well. You can even go away and have a coffee. Practise a few runs. Once you are satisfied with it click on the stop.
In my sample... Once I had taken a couple of shots and followed the steps I have outlined here added my comments and problems I saw in my own typing I simply clicked stop / another window pops up offering to save it, give it a name, and a directory where to save it. I named it Article Test, it saves as a html file in a zipped form.
I recommend that you open your PSR file in your browser before sending as it does a spelling check and lists if there is any errors or missed steps. Then simply unzip it or upload the zip as is to your question using the Add File.
Included here are 4 snapshots,
the first illustrating the Problem Steps recorder as it sits
the 2nd saving the file naming it.
the 3rd is showing you what this sample Article Test extracted looks like.
The 4th shows how it looks opened in the web page of your browser.
Now to explain why the image has a grey area>
As you can see from my samples opened in the browser the area I have highlighted has a red line around and is clearer /emphasized.
That is why the other area is grey so if your entire page is grey you have missed a step, the one for highlighting your problem area.
I fixed my title now and have corrected any spelling mistakes.
And finally I have included my sample of the Problem Steps Recorder in action, I called it Test Article.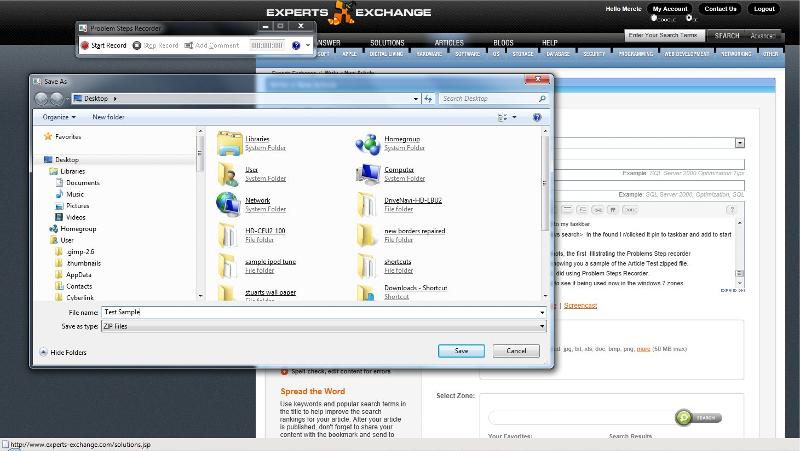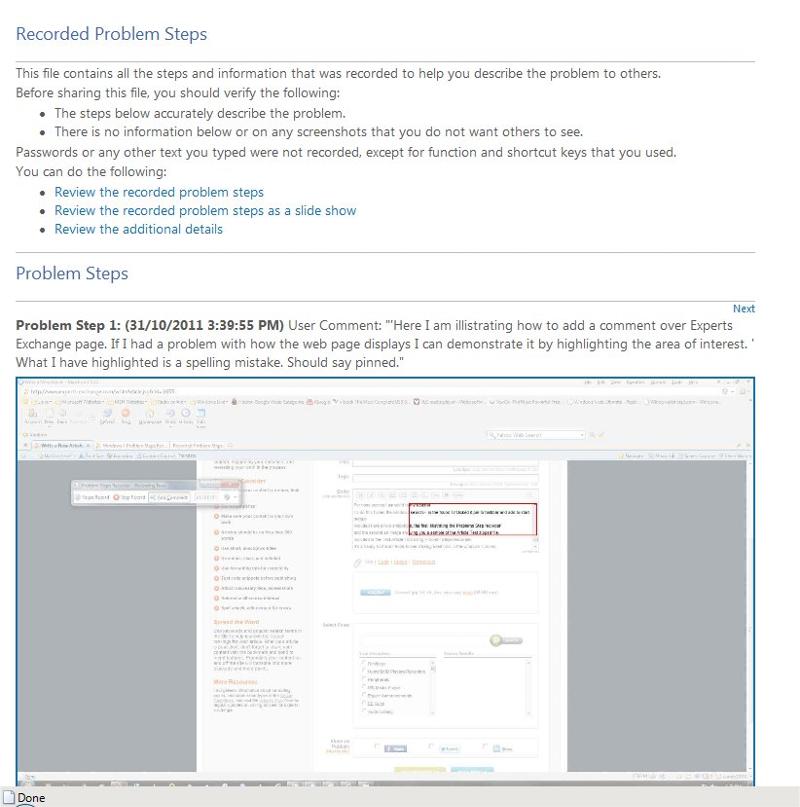 And of course the results for you to see yourself :
Test-Sample.zip
It's a handy tool and I hope to see it being used in all zones , so long as you have windows 7 this tool can be used to highlight / define/show a problem in any subject and posted to any zone. Again, just be very careful about any private, confidential or secured information being displayed on the screen at the time.
Thanks for taking the time to check it out and I hope you found it useful.
Merete