Hello Friends,
My friends and relatives always ask me
how to delete all the various types of emails at once in our g-mail or windows live account
. So I researched this topic to find a unique solution to this query. Here it is for those who do not know how to do it. This article will definitely help you.
For
gmail,

Step 1:
Sign in to your account via
www.gmail.com
Step 2:
Then go to inbox option there.
Step 3:
There you will see an check box icon to the left of the archive option and right of your inbox option where you click just now. See image below for more clear view:
gmail1a.jpg
Step 4:
Click on the
select all conversation
option below a menu 'more' see an image below,
gmail1a.jpg
Step 5:
Now click on the delete option and you've done it :-)
if you have any trouble with this please let me know i will definitely help you.
you can also same do with your Hotmail account i.e., windows live messenger too :-)
For deleting
windows live e-mails
at once,
1. Sign in to your account. go to
http://www.hotmail.com/
2. Then Go to your inbox.
3. Click on the same check box like which you see in gmail.
4. Then same like gmail account click on the select all option.
Now here some may have trouble finding the delete option.
it is directly below the email box look here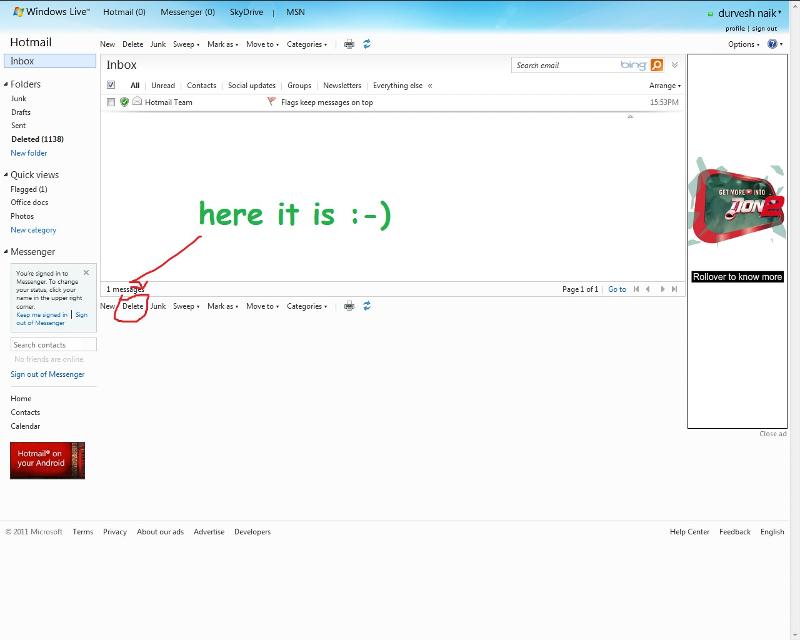 Please don't forget to convey your views and regards about this article. also click on the helpful button if you like it!. This will help me to keep making such articles.
Hope this article will be helpful to you and you will not have any difficulty with this issue. If you have any trouble following these instructions, then i am here to help you always :-)

Good Day and take care