Microsoft Exchange Address Book Service will not start after migration from exchange 2007 to Exchange 2001.
Introduction :
one of EE users have question that after migration from exchange 2007 to exchange 2010 found that outlook users will not work fine , after investigations i found that he need to reconfigure client access and auto discover , it was working fine after reconfigure steps but an strange problem appears that Microsoft Address Book Services will not start , the user said that he spent 2 days searching on internet but no solution found , i found the solution and here is steps and descriptions :
Problem:
This problem is one of rare problems that maybe occurred after migrating from Exchange 2007 to Exchange 2010 , the user may need to re-configure auto discover and Outlook anywhere , however for unknown case the "Exchange Address Book Service " stop working and following events are found on Event Viewer :
Event ID: 7000
Description:
The Microsoft Exchange Address Book Service Failed to start due to the following Error:
The service did not respond to the start or control request in a timely fashion.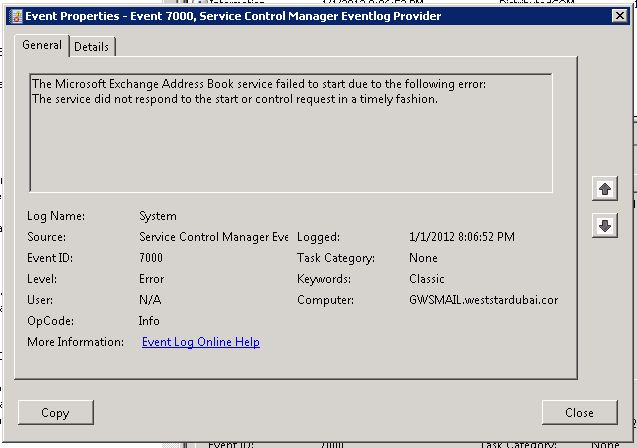 And
Event ID 7009
Description:
A timeout was reached (3000 milliseconds) while waiting for Microsoft Exchange Address Book Service to Connect.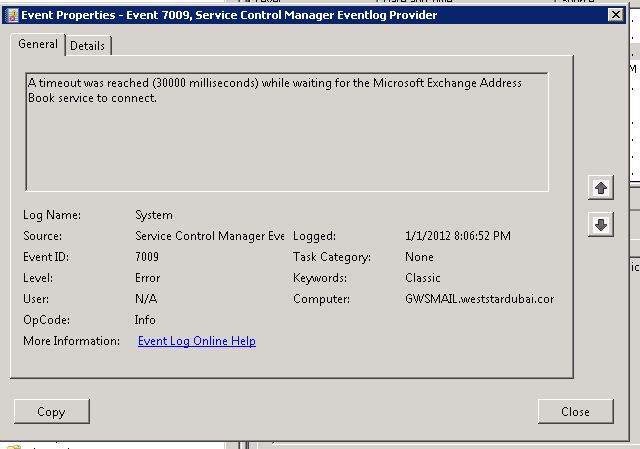 Symptoms:
The user side will connect to exchange server but updating take very long time which is result on failed on Outlook connection.
Resolution:
After long search on internet there is no solution found for this case , I have found by myself that address book service required ports to be defined on registry after reviewing the registry values required for ports to be defined , I found that these values were absent , this was the reason that why service stop responding and no longer able to start.
Here we are :
Start -> run regedit.exe
Follow these registry key:
HKEY_LOCAL_MACHINE\SYSTEM\
CurrentCon trolSet\se rvices\MSE xchangeRPC

create new REG_DWORD
name "TCP/IP Port"
assigned value : 59532 (Decimal)

then follow this key :


HKEY_LOCAL_MACHINE\SYSTEM\ CurrentCon trolSet\se rvices\MSE xchangeAB\ Parameters

created new String Value REG_SZ
Name "RpcTcpPort" (without quotation)
value : 59533

then close regedit …start Microsoft Address Book Services , it works fine...

Disclaimer: This article came about because of a question that the author was able to assist with. Setting the port number should not be a requirement to resolve this issue, and perhaps it was coincidence that it worked, but it is presented as a possible work-around if more traditional fixes have failed.

here is additional useful resources related to this article :

http://social.technet.microsoft.com/wiki/contents/articles/configure-static-rpc-ports-on-an-exchange-2010-client-access-server.aspx

Recommended reading : http://technet.microsoft.com/en-us/library/ee332317.aspx

Regards

Maen Abu-Tabanjeh
IT Manager.
Amman - Jordan