Book Review: Using Microsoft Visio 2010 by Chris Roth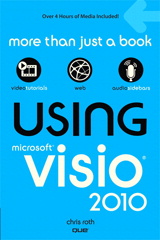 Disclaimer: The author of
Using Visio 2010
is a friend and fellow Visio MVP.
Whether you're new to Visio or are upgrading to Visio 2010 from a previous version, you will find a lot to like in
Using Visio 2010
. A big part of the reason is that the author, Chris Roth, has been working with Visio almost since the beginning. He started working for Visio Corporation as a college intern, well before the company's acquisition by Microsoft, so his knowledge extends to the roots of the product. In fact, he designed some of the smart shapes that are still part of the stencils in Visio 2010 nearly twenty years later. The depth of his knowledge is evident throughout this easy-to-read book.
Chris starts his book with an excellent overview of what Visio is and what it can do. He's also clear about the things it doesn't do well, which is very helpful. If you are familiar with previous versions of Visio, you'll appreciate the 3+ page summary of the new features and capabilities of Visio 2010 that is part of Chapter 1, along with the numerous places where the author provides step-by-step examples of their use.
There are lots of creative examples throughout the book, many of which revolve around variations on several diagrams for the fictitious Emerald Ecological Enterprises (EEE). By introducing multiple variations on a core set of diagrams for EEE, the author effectively demonstrates the flexibility of Visio to present ideas in different ways and enhances the learning opportunities for the reader.
In his coverage of Visio diagram types, Chris shows you some things you'd expect to find (flowcharts, network diagrams) and some things that will surprise you (a circular array of arrows, printing "contact sheets" from Visio pages). Indeed, the creativity of his examples and exercises is a key feature of the book and accounts for the title at the top of this review: Chris may be demonstrating and teaching us about a product capable of doing truly geeky things, but he does so with artistic vision and flair.
One example: Figure 4.7 is simple but I think it's the best and most creative way I've seen to visualize the difference between dynamic and point-to-point glue in Visio.
Other excellent features:
Chris is a firm believer in two-handed operation of Visio, i.e., using your mouse and the keyboard simultaneously or using two-handed keyboard shortcuts. As a result, he offers a great collection of tips and shortcuts to maximize productivity.
Chapter 10 offers tips for sharing Visio drawings across other applications in the Microsoft Office suite in order to ensure consistent styles, colors and themes.
Following the design of the
Using
book series from Que Publishing,
Using Visio 2010
includes several dozen video and audio tutorials. Chris' examples and demonstrations are well planned and he does an excellent job of actually showing you how to accomplish key tasks using this multimedia approach.
Do I have any criticisms? Sure. But the few items in this list should not deter you from buying the book.
The index could be more complete; it doesn't include all occurrences of some key topics and occasionally it even omits the first occurrence and explanation of a topic.
Some terms are used in the text before they are defined or explained. Often they are explained later in the book, however, explaining them the first time they are used would be more helpful.
A glossary would help both novices and advanced users understand Visio-unique terms.
Despite having written
my own book
on the very same version of Visio, I learned a lot from this book.
Using Visio 2010
is that good.