Hi Experts,
Experts Exchange has been developing a new question page to help achieve the following goals:
Improve UX
Unlock content (related content & personalized content)
Highlight experts & create a community feel
Highlight and increase accessibility to other content types and features on EE
Increase engagement/participation
Provide additional ways to identify quality content
Make pages responsive
Here is a list of the updates:
Left rail navigation- This left rail is sticky and will remain in place as you scroll through the page. The items in the navigation anchor to the corresponding section of the page. The tool bar/share bar has been moved from the bottom of the page to this left rail for easy visibility/accessibility.
Right rail- The components in the right rail are sticky and will switch depending on what section of the page you are viewing. For example, when you are reading the question, you'll see related questions until you scroll down to the accepted solutions, then we highlight the expert that solved the question. Once you have made your way to the bottom of the page, we start suggesting member, groups and topics to follow.
Good Question/Solution/Comment buttons- We have added a way for members to tell the community what content is helpful. Along with providing contributor's with positive feedback for their contribution, we can use these quality indicators to improve algorithms around the site to provide better content to our members. There are currently no points rewarded, but this is something we plan on adding in the future (similar to helpful votes on articles).
Accepted Solution Section- The accepted solution(s) are now highlighted right below the question for quick and easy accessibility. All comments in chronological order are still located in the all comments sections.
Contributors Section- Highlights the question author and all members who have participated in solving the question.
More Resources- Highlights articles and videos we think the member would be interested in.
Page will be responsive for optimal viewing on browser, tablet and mobile.
We are planning on launching this new question page in July. We will keep you posted on the exact launch date.
Attached are previews of the page: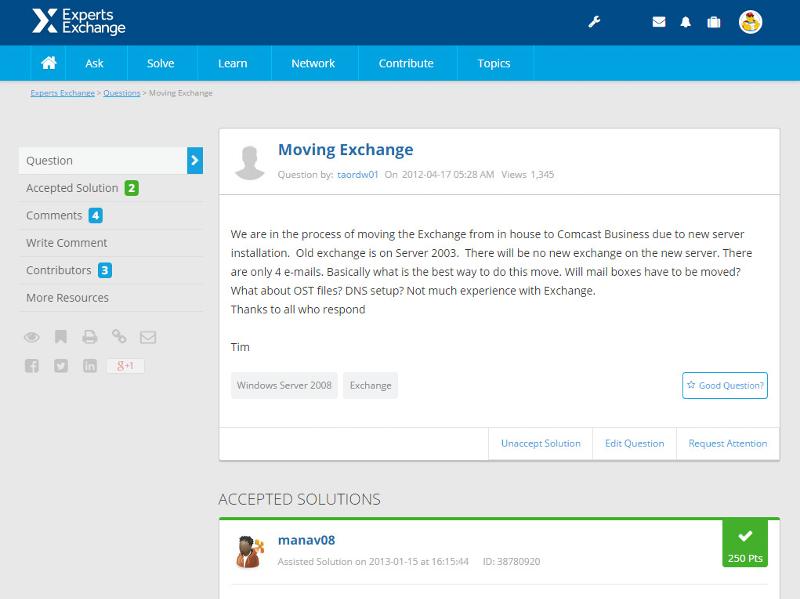 -----
Brenae Noack
Senior Product Manager, Engagement
Experts Exchange