Greetings!
As part of the project to
improve the topic creation process
, we're developing a tool for reviewing and gathering feedback on the proposed topics. It's what we're calling the "proposed topic tool" (creative name, eh?). I wanted to share a concept sketch of this to give you all a sneak peek into what we're planning.
(And yeah, you'll probably want to click on the image below so you can see the full size version and be able to read the annotations…)
Concept Sketch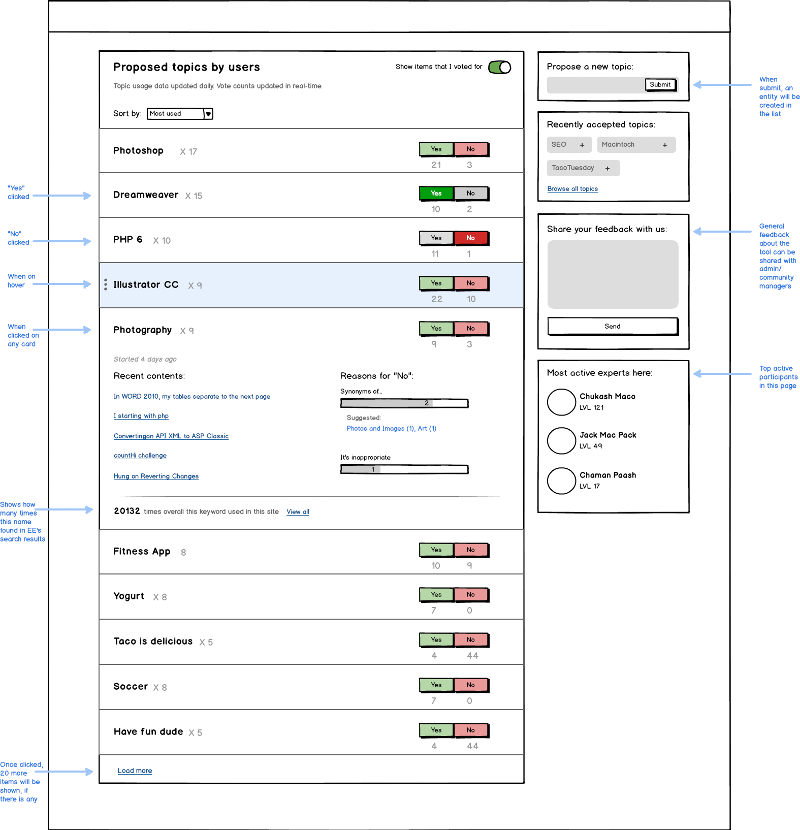 A few of the problems we're trying to solve with this are:
Lack of good visibility into how much a potential topic is being used
Not being able to collect good community feedback on if something should be a topic or not
Difficulties in letting members know about new topics
Lack of a way to make new topic suggestions
Access Level
We're planning to have this tool be available to a wide pool of members, potentially at Level 5 (50,000 points). I know that's come up as a concern for topic editing, but what about for this? We definitely want to encourage the community at large to be able to be as involved as possible, while still helping prevent abuse or gaming the system.
Promoting to Official Status
As far as determining exactly how one of these topics gets promoted to official status, we're still working through the details, but the top proposal now is that if a topic hits a vote threshold of 20 more in favor than not (Yes - No > 20), it would then get promoted, at least to start off. We'd anticipate needing to fine tune over time; depending upon how it goes and how many members get involved in providing feedback.
Disclaimer
Keep in mind that this is not a final version and some features may change or not make the cut, but we hope it helps provide some good insight into the direction we're headed.
Regards,
Brian
Senior Product Manager