Hello!
Here at Experts Exchange, sharing knowledge is in our DNA. Whether it's providing solutions to a question, writing articles, creating videos, or teaching a course, we've tried to provide a variety of ways for everyone to contribute. Yet each of these mediums have a specific, intended purpose that may not cover every issue.
New Perspective
We understand that when you discover something interesting, it may not warrant a full-length article. Or you may have a question that doesn't have a specific technical solution, like when you're wanting to skim firsthand pros and cons about a new platform you're considering. With this insight, we began to search for less formal communication channels that help members quickly share ideas and interesting content with their community.
As we worked to solve this issue, we also took note of the comments surrounding the usefulness of the content feed, the requests for more benefits in following other members, a variety of feature requests for group discussions, and concerns about losing the "community" feel Experts Exchange is known for as the platform grows.
An Easier Way to Share
So that's why we're working on developing a simplified way to share ideas, tips, and quick thoughts with the Experts Exchange community. Write that quick tip you came up with. Share that article you saw about
playing Pac-Man on the new MacBook Pro's touch bar
. Rant about your dislike of PHP. Most importantly, have it be a quick, easy, and enjoyable experience for you.
While there are still plenty of details to iron out, the initial vision is for you to share what you want and have your followers see it in their feed. If you want to share the post with a wider reach, include relevant topics so others following those topics will see it too. You may even share the post with specific groups that you're a part of.
I could write a thousand words on our hopes for this feature. Instead, here's a concept sketch to convey the idea: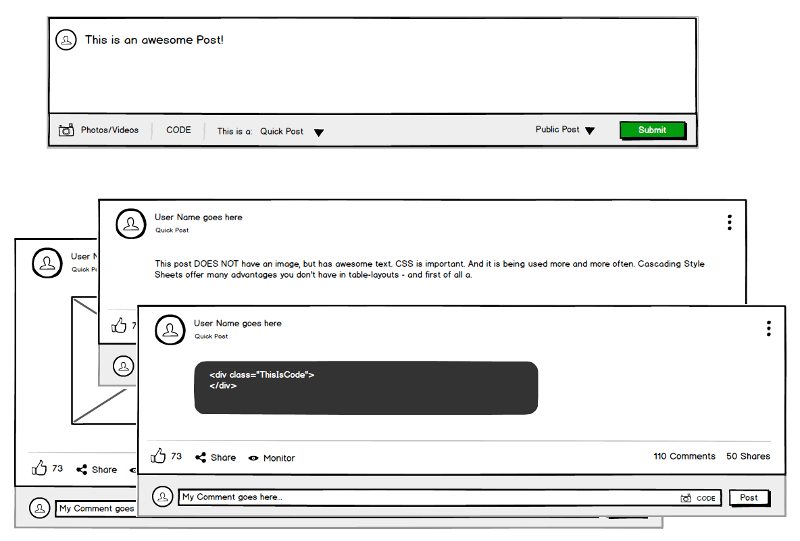 Beta Plan
As part of this rollout, we're working on an update to the content feed to include this style of posting. Members will test a beta version of the new content feed, we'll iterate to add or adjust new features, and then the new content feed will replace the old one.
Per this plan, all project and feature details described here or shown in the mockup are, of course, subject to change.
We're just getting started and are currently slated to work on this project throughout the first quarter of 2017.
Feedback?
We imagine you may have specific questions, but before diving too deep, let us know any initial "gut-check" thoughts. How do you think you might use this feature? Any hopes for it? Concerns? Interested in being part of the beta? Let us know in the comments below!
Best,
Brian J. Matis
Senior Product Manager