Hello Experts!
Feature Recap
Back in December, I wrote about how the team was working on developing a
new way to share
here on Experts Exchange. The quick recap is that we're introducing Posts—a way to easily share quick tips, news, and ideas with the rest of the Experts Exchange community. Along with this new feature comes a reworked home feed, featuring greater interactivity and a more streamlined interface.
Expert Beta
We're excited that the release of this new feature is fast approaching! We've been enjoying it in the office and with a few community members in early alpha builds, but we're ready to let others in on it. We figured there was no better place to start than with some of our most engaged and passionate members: the Experts. So if you've earned at least 50,000 lifetime points or have Qualified Expert status, then you'll have access to the new feed and posts feature when the beta goes live. Rest assured that if you still need access to the old feed, there's a way you can get back to it during the beta period.
While we're in this phase, posts and the new feed are only visible to other users in the beta. We'll also keep all posts generated during the beta and will not wipe the data before public launch; so use the feature like you normally would.
(But if you do create something you want to get rid of, no worries, you are able to delete any of your posts on your own.)
Sample Screenshots
Example of a post in the new feed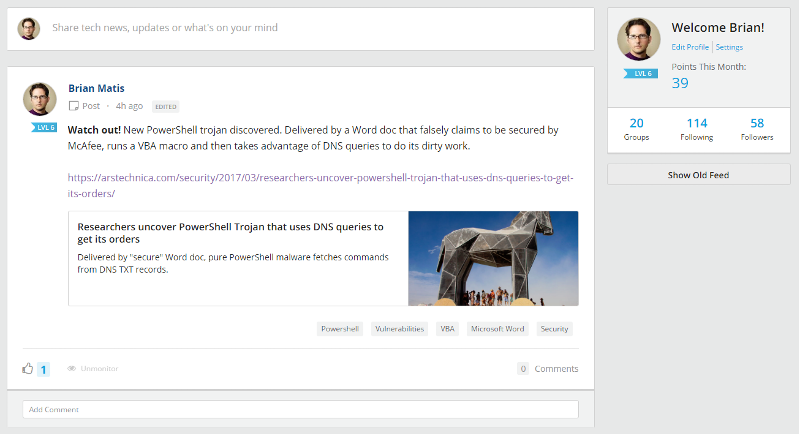 Field for writing a post - expanded when clicking in the field

Asking a question

Searching for posts

Major Features
Posts—easily share quick tips, news, and ideas. Includes:
Text formatting & embedded images
Link previews
Commenting
Endorsements
Monitoring
Notifications
Save to Knowledgebase
Topics (optional, but can help your post be seen)
Searchable
Write a post or ask a question. Right from a single form at the top of the new feed.
See articles, videos, and posts from your followed topics or members.
Simplified, two-column layout.
In-line commenting—directly from the feed.
New member card, showing current level and progress to the next.
Customizable Workspace card. (Coming soon, and not yet included in screenshot shown above.)
Expert Beta Release Date
We're currently on track for releasing the Expert Beta on Monday, March 13th, and we're really looking forward to seeing what you'll all share!
Best wishes,
Brian J. Matis
Senior Product Manager