Greetings all,
I want to share with you some of the things we've recently added and what is planned to address concerns that have been raised regarding abandoned questions, inactive closure and in general rewarding Experts for their contributions.
A well formed question that can be answered.
We revamped the question asking process to be more clear on what information is needed.
We recently introduced the ability to ask clarifying questions of the question author.
Customer Service now can aid new users through the question asking process.
Following up on the question
We've updated the question asking process to guide users through what they need to do.
When they've just ask the question and there are no comments: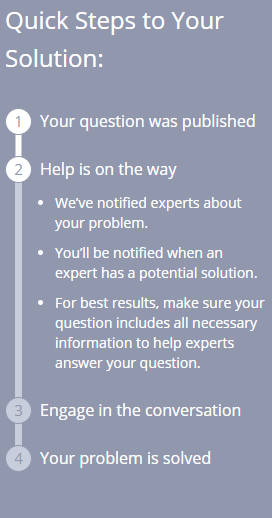 When experts have commented on the thread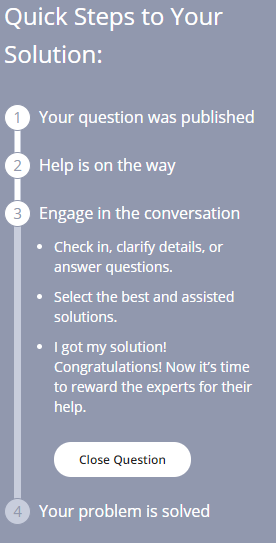 An example of how we hint to users what functionality does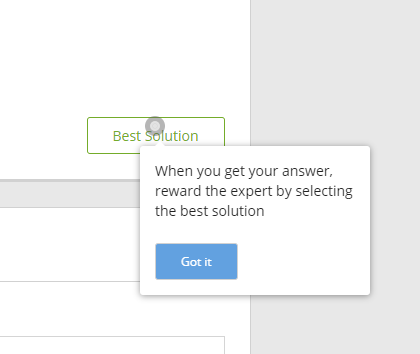 Informing new Experts
New Experts are now getting guidance on how to contribute as they comment for the first time. Apologies for the issue where many long term Experts got these toasts (pop-ups) that were
supposed
to only go to new Experts. Basically they guide new Experts to go to
https://www.experts-exchange.com/contribute.jsp
.
Related to this we also added Job Titles to question comments and soon we will display whether or not a participating Expert has received an award.
Rethinking the way solutions are validated
Soon we'll be trying out a new workflow for question authors. Instead of waiting until a problem is completely solved to reward Experts, we will give authors the ability to react to comments as they arrive by indicating which comments they found helpful or unhelpful. This will allow us to give better instant feedback to Experts, and further down the road we are looking at adding an easy way for authors to indicate they still need a solution. Often Experts rely on the number of comments to determine this or have to review all the comments in the thread, which is not efficient. And when it comes to question closing, we will already have a good list of what helped the author and what likely lead to their solution.
Endorsements can be given for a lot of reasons, we want to allow Experts to choose how they respond to another's comment. Along those lines we are planning to give Experts more granular ways of reacting to other Expert comments. For example, I'm a new Expert in the Oracle topic and sdstuber and slightwv react to my comment as "Insightful" or "Innovative Solution", I would get notified of their approval which would make me feel great and the author would get an indication that comment comes endorsed by seasoned Experts in the topic. Conversely, if they find my solutions to be not well thought-out or just throwing out ideas without experience, then we wouldn't immediately notify me but rather guide me to how to better contribute as an Expert or perhaps suggest some training on Oracle best practices.
This is intended as the replacement of the inactive question system. This will help alleviate some of the issues the inactive question system sees with self assigning solutions and improve the current usage of the "Community Endorsed Solution". We are going to then better distinguish to all users which solutions can be verified as what worked for the author of the question and which ones are based on peer review.
If this works out then we are considering completely rethinking how points are distributed and focus it on what is helpful to the author and what is seen as valuable by the community. We are also heavily considering changing it so that there isn't a point cap per question because fundamentally this doesn't encourage collaboration. The more Experts that help, the less points are available to each participant.
I know this may seem daunting, but Don't Panic! :) We are prepared to spend the time necessary to react to any unintended consequences caused by these changes.
Regards,
Craig Kehler
Director of Customer Service & Community Relations