Update: The Q&A Beta will conclude on July 30th, 2018, becoming the new author experience.
Over the past several months, while testing changes to the Question and Answer process, we have gathered a great deal of feedback and perspective from all of you. You've helped us define the most troublesome elements of the existing Q&A workflow, and worked with us through our initial tests. For that we are extremely grateful, and based on those discussions we have targeted three key needs to address with this beta program.
Collaboration needs to be encouraged.
A finite pool of points per question and the system for awarding solutions causes many to refrain from posting to a question if another member has already done so. When that is not the case, some express frustration at splitting points with another member that only elaborated on the already provided solution. This has lead to askers feeling frustrated by a lack of input and answers and solvers frustrated to have their hard work marginalized by other participants.

Process of selecting solutions needs to be intuitive.
The selection of "Best" and assisted solutions has been troublesome for askers. Concerns have often been reported over selecting the wrong solution as "the best" and has discouraged some askers from closing their questions. When they want to accept multiple answers, the process has multiple steps and ends up focusing on splitting up points rather than highlighting solutions. In both cases, users have reported they thought they closed their question only to be told later they still needed to do so.
Rewards need to be proportional to effort.
Some solutions are more thoroughly put together or provide deeper insight, while others may only link to a documented solution from an affiliated source. Both are helpful and both are technically solutions but the former has a better chance of conveying further understanding of a problem, the solution, and potential ways to avoid similar issues in the future. Such efforts need to be rewarded in kind.
The Beta Process
All questions asked as part of the beta program are identifiable when viewed by a tag placed above the question title.

Want to try the beta? See the instructions at the end of this article.
Comment Interactions
As answers are posted to a question the author is encouraged to interact by responding to a simple question at the end of each comment:

If a comment did not help our outright solve your question, it can be collapsed. We're also working toward using this information to alert experts and site volunteers to questions in need of further help in situations where most—or all—comments have been collapsed.

A helpful comment that did not quite answer the question still deserves some reward. Along with the existing benefit of being highlighted in the author view as a helpful comment, the posting member will now also earn a small number of points, similar to receiving an endorsement on an article or video.

Once a comment solves the question, the author only needs to click "Yes" and the comment will immediately be set as a solution.

No need to worry about accidental clicks; simply undo your selection for any of the above selections by clicking the "x" near the helpful or unhelpful text seen in each image above.
Multiple Solutions
Many questions have more than one solution or consist of several answers that combine into a comprehensive solution or walk-through. In those cases, question authors simply click on "Yes" for every comment that solved their problem. Once one solution has been selected, the question is treated as solved but questions in the beta program allow for any comment, even new comments, to be accepted as solutions at any time. Each solution earns points without a finite point pool limiting the total rewards and multiple comments from one member each earn points.
While each solution earns the same number of points, the extra efforts of individual participants are rewarded by the potential of having multiple comments selected as solutions and by bonus points outlined in the next section.
Resolution and Bonus Points
Once the author has selected one or multiple solutions and received all the help they need, they can then recognize individual participants by awarding bonus points and leaving a comment of gratitude for their help.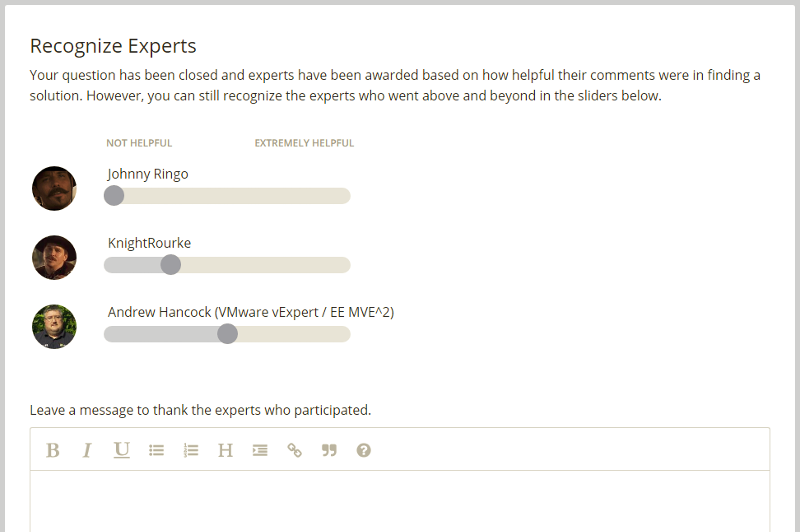 Bonus points are determined by the sliders at the right of each participant's avatar, and the slider's starting position is determined by the author's interactions with that question. These starting positions are merely suggestions and can be overridden by the author.
Can I Try the Beta?
Yes! We welcome and encourage all members to give the beta a try. On the Ask Question page, you may select to submit your question in the beta program.

The Q&A Beta will conclude on July 30th, 2018, becoming the new author experience.
We are overjoyed with the positive reactions we've already received, and are extremely grateful to everyone for the feedback that helped us refine this new process.
Best Regards,
Christopher Rourke
Product Manager - Experts Exchange