Since the release of the new asker experience for Question and Answers we have been working hard to bring the updated layout to the Experts. And we are excited to begin beta testing new functionality that allows experts to mark good and innovative answers to questions. A goal of this beta is to merge functionality from the endorsement and inactive closure systems into a more streamlined and meaningful experience between Experts and to highlight expertise. Specifically for Experts, we are also adding a new points breakdown component that displays the total points earned by participants and details how points were earned by each.
Beta Entry
Starting Monday,
September 17th
, Experts will have the ability to switch between the existing UI and the beta experience at any time via a toggle on question pages.

We encourage all Experts to give the beta a try and to share their feedback, so please spread the word.
Beta Functionality
Qualified Experts opted into the beta have three options presented beneath other expert comments, similar to the question author experience. These options are present before and after the asker has accepted a solution allowing experts to highlight good answers even on closed questions.

Selecting a comment as a solution awards the 100 points to the provider of the comment and applies the new "Expert Certified Solution™" tag to the comment.

When a comment was good but not quite a solution it can be marked as helpful which awards 50 points. In both cases, the comment display is updated to include the number of Certified Professional endorsements received at the bottom right.

Much like the endorsement thumb, hovering over or clicking on the Certified Professionals endorsement count displays which experts approved of the comment.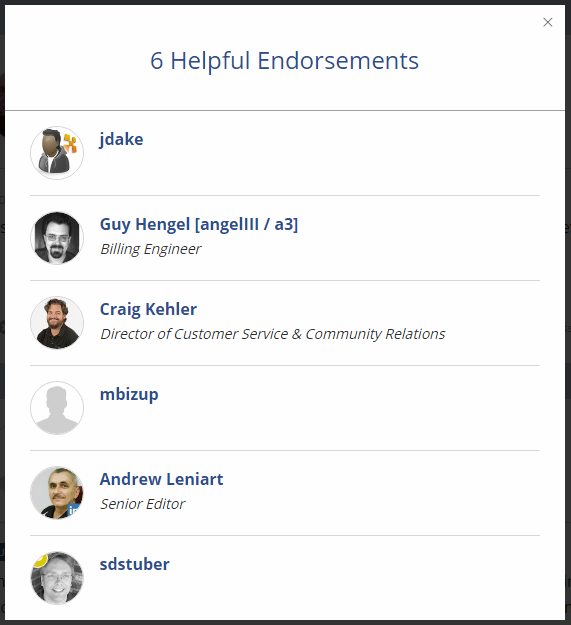 If a comment is unhelpful experts can mark the comment and, if they choose, provide further details as to why it was not helpful. When set, unhelpful designations are visible only to users with elevated permissions.
Throughout the week I will be updating this discussion with more details and images. We very much look forward to working with all of you to make the best Expert experience possible.