What are sessions?
A new set of tools to aid in collaborating with askers. This new option will be available for all questions posted to the site.
Starting next week, you can help users on site by starting a session. When in a session, you have access to multiple real-time collaboration tools: text, voice, and video chat with optional screen sharing.
Only you (an expert) can start a session, and you are in control of what tools you use during a session.
Give it a try on my question,
"How would you use sessions?"
Why did you create sessions?
This is part of a continued effort to be the preferred and recognized choice for individuals and professionals who are looking to solve technology problems.
We're all used to having tools like Skype and Google Hangouts in our day-to-day professional environment. We use them to exchange information with high efficiency in any given situation. We want the same features you've come to expect when collaborating with colleagues and other professionals to be available when you're helping on Experts Exchange.
Why would I use sessions?
Direct communication.
You see it often--someone asks a question, but they haven't included nearly enough information. In order to even begin solving the problem, you'll need to go back and forth multiple times just to get started. In the end, something that could have been answered in a few minutes is stretched across an entire day or longer.
With a session, you can hop directly into a real-time conversation and get the details you need in the way that works best for you:
Just need to work through some quick clarification? Chat via text.
Don't want to spend time texting back and forth? Turn on voice chat.
Need to see the user's desktop? Have them share their screen.
Need to look at the actual device the user is referencing? Have them turn on video.
How do sessions work?
Sessions function similar to many of the collaboration tools you're already familiar with using.
Starting a Session
When an asker is viewing their question, you'll see the option to "Start Session" below the comment box: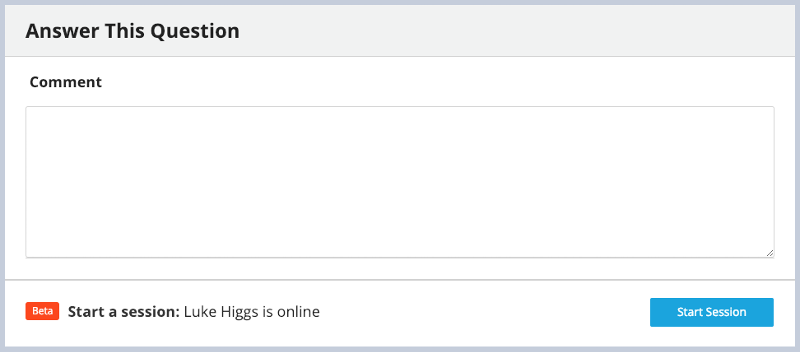 If the user has navigated away from the page, their status will appear as offline:

If the user is already in a session, their status will appear as unavailable:

In the following example user experience, "Lucas Bishop" is the expert and "Bill Torchia" is the asker.
When you click "Start Session," the question asker will be prompted to accept the session with the following message: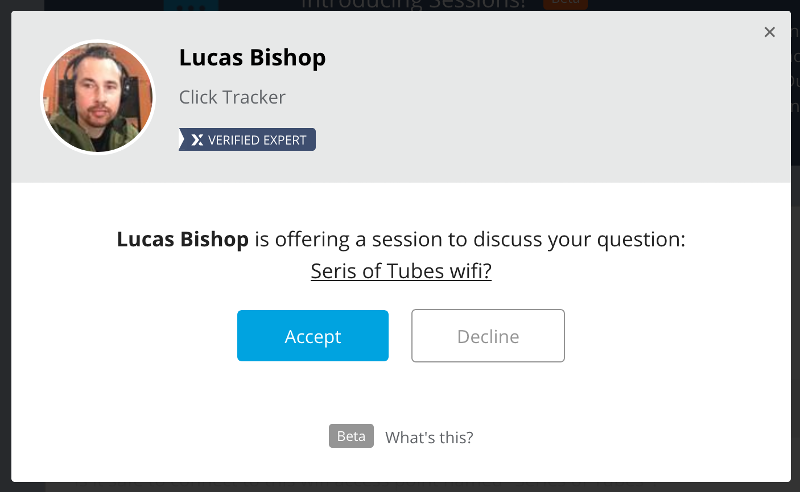 Navigating the Interface
You (the expert) will enter into the session in a new browser tab while the asker decides to accept or decline the invite: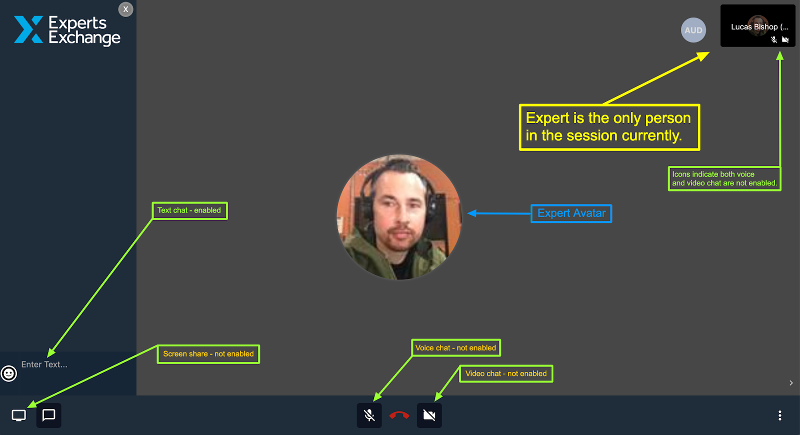 Once the asker accepts the session invite, they will show up in the lower right corner of your interface: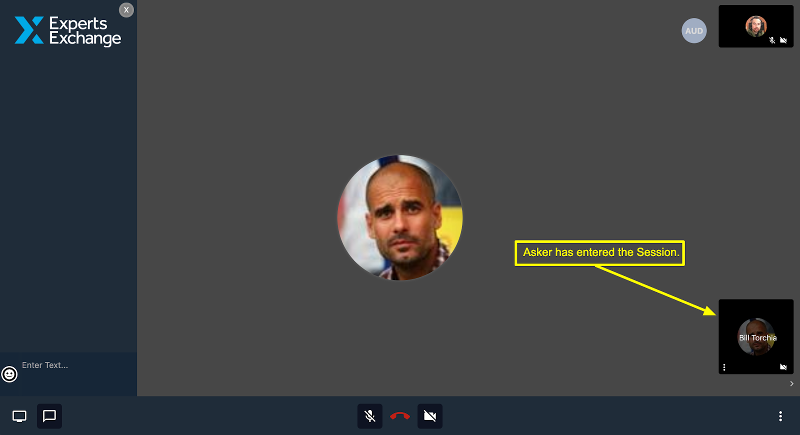 You can begin communicating via the text input box in the lower left corner: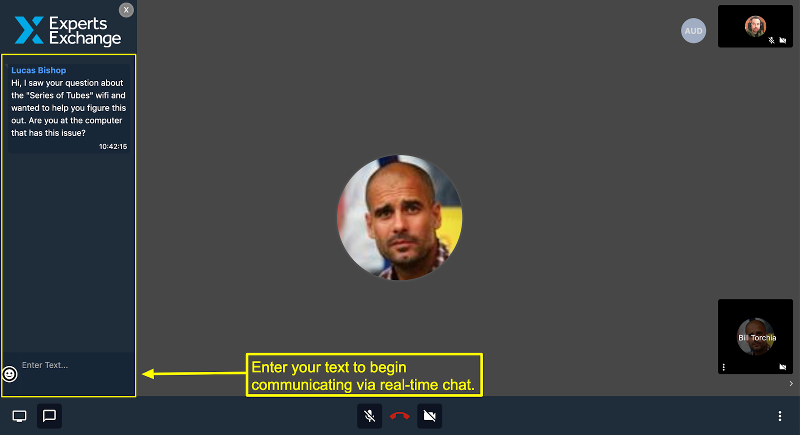 You can exit the session at any time with the red hang-up icon: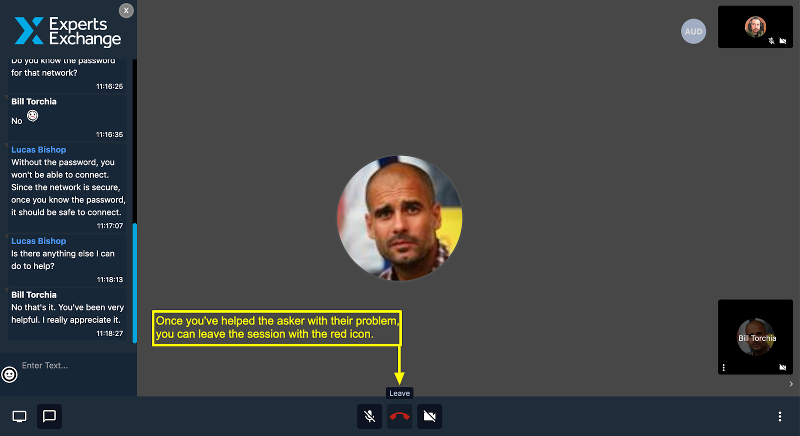 You'll be given an opportunity to summarize the help you provided during the session. Your summary will be posted as a comment to the original question. The chat log will not be shown publicly: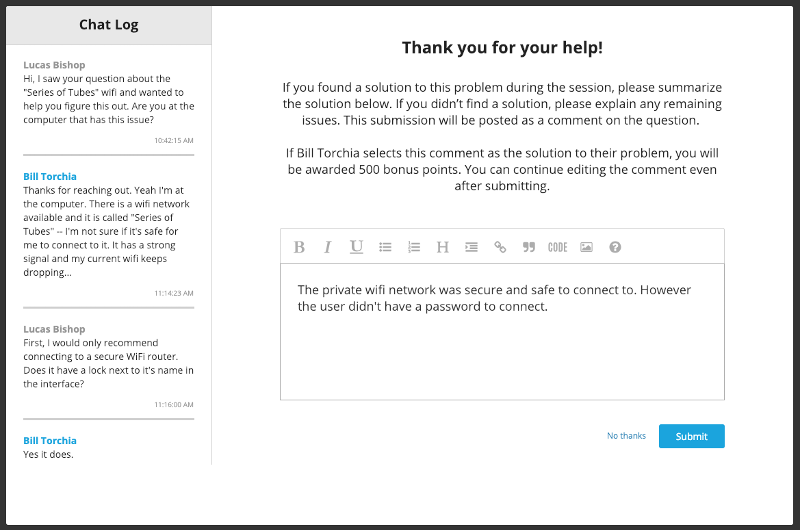 The user will be able to choose your session as a solution to their question. They will be prompted to make this choice after the session, or they can also make this decision later through the normal question closing process:


Am I required to use voice, video, or screen share when I use sessions?
No. You have full control over which features you decide to use.
Why is "Start Session" only available when we are both viewing the question?
Missed connections are never a good experience, so at this stage, we're making sure the tool is only available when both you and the asker are viewing the question at the same time.
Do sessions work in all browsers and devices?
We recommend using Google Chrome for the best experience with sessions, but Firefox also offers full functionality.
Microsoft Edge can be used for text, voice, and video conversations but does not support the screen sharing feature.
Internet Explorer and Safari are not supported at this time.
Browser support is exclusive to desktop and laptop browser versions. Phone and tablet devices are not supported at this time
Do I have to install anything to use sessions?
The only feature that requires client-side installation is screen sharing. If you choose to utilize this feature, a browser plugin is required.
Can I transfer files in sessions?
File transfer over a session is not supported at this time.
We're excited to present these options to you and eager to hear your impressions and feedback. Happy solving.