Like most people, I hate spam! - Which is why I love
Mailwasher Pro
! I highly recommend it and no, that's not my affiliate link. Though I do have one :)
I've yet to try another anti-spam solution that gives me as much control over my mail and that works as well as this software does in keeping spam out of my Inbox, while never affecting the mail I want to keep.
Here's an example screen grab I just took to show why I'm so fond of it.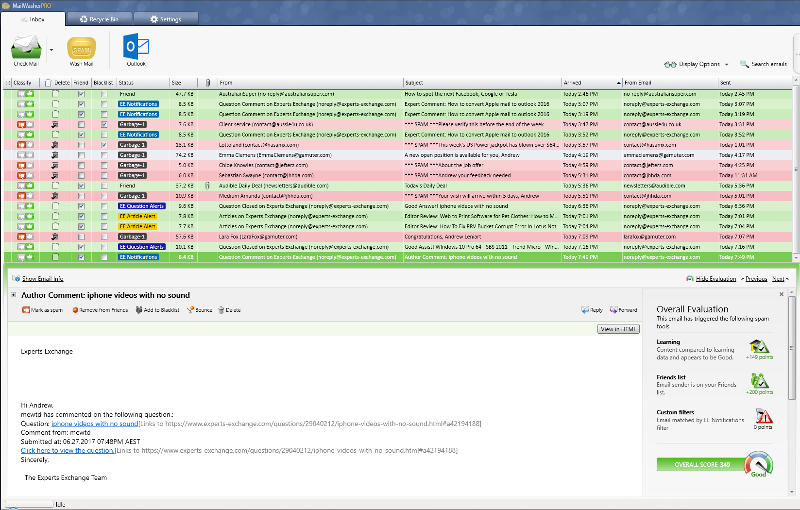 Every action in this screen shot was pre-marked automatically for me without my needing to do a thing. I have the option to over-ride anything with a quick mouse click and the program will remember my preferences for the next time it checks. I can also safely preview any email in that list using plain Text or HTML format and even shoot off a quick Reply or Forward if I want to, without needing to bring it into Outlook.
When I want to bring in my email, I just hit the big "Wash Mail" button and it deletes all the garbage from my mail server's host, opens (or maximizes) Outlook and I click send/receive in there to bring in only the good stuff that I want to keep. Spam hasn't made its way into my Outlook for years now. I also have it installed on both my IPhone and IPad.
When I do want to adjust my additional "self created" filters, the provided filter creation tool is great so the process only takes seconds to do. If you hate spam as much as I do and want more control over what makes it into Outlook (or just about any other email client) then give this program a trial run.
What's your Anti-Spam tool of choice?
I'm always interested in looking at new solutions to this ever increasing problem so would like to know what "your" favorite solutions and recommendations are.
.