Alph@TaV, a new way to secure your data like Swiss Banks would do to protect your money! (One Vault + 3 Physical-Keys to open it)
There are many ways to pr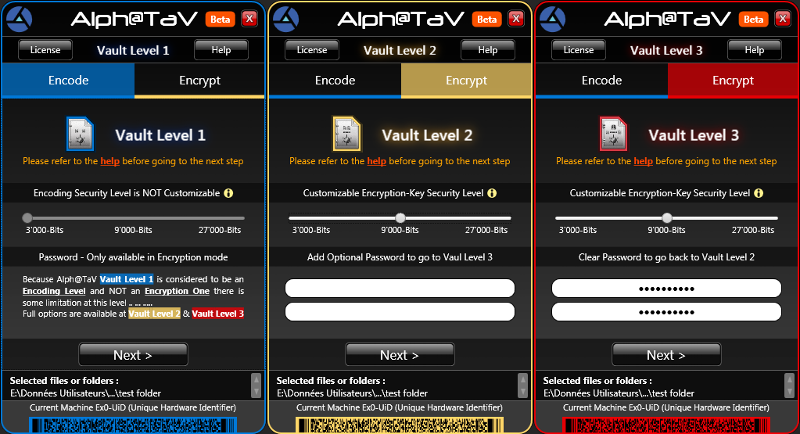 otect your digital data today and it is not so easy to choose the right solution to really suit your needs.
Alph@TaV is a new approach to secure any type of files / folders, based exclusively on a proprietary algorithm that our company has invented and developed internally; for security reasons we have never used any known algorithms.
Our concept of protection is based on a system with 3 Unique Security Keys plus the secured data itself; and each one of the obtained files have no coherence if used out of its own context.
In addition, the data set itself is secured by an input key between 3,000 / 9,000 and up to 27,000 bits long depending on the parameter selected by the user during the encoding process.
You can set restriction options to allow to open your secured data only to selected computers defined by the unique hardware identifiers and you can decide the time limit during which the data can be decoded.
Moreover, Alph@TaV has some functionality to destroy secured data irreversibly if bad parameters were to be introduced during the decoding process; it is for instance an essential option for any field agent.
You can discover our software by yourself by visiting our website and downloading the limited version of Alph@TaV : there is no better way to form your own …