Warning - A respectable looking scam attempt
I get scam attempt emails all the time, however, this one caught my eye due to how cleverly it's been put together. An almost perfect reproduction of a genuine Energy Australia electricity bill. Two screw-ups from this particular scammer though - An invalid "From:" email address and the Copyright statement at the bottom of the bill is dated 2017.
Other than those two mistakes, it is an almost perfect reproduction that I fear would fool the majority of technically challenged users. Even the
Sign in to My Account
etc. links are genuine. Take a look at this: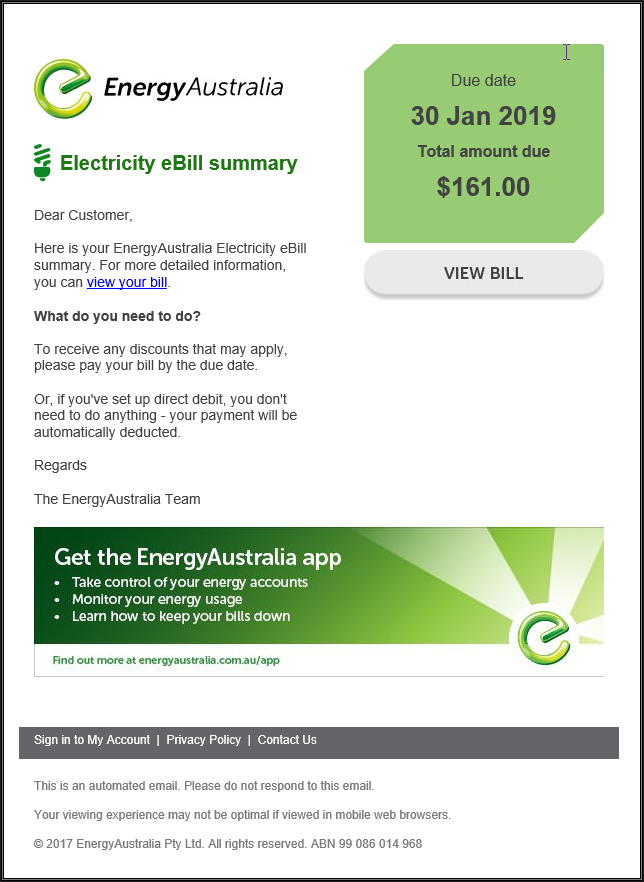 The "view your bill" link is bogus and hyperlinks to the following address, which I've purposely mangled to make it unclickable.
h t t p: // org155 DOT outdoorjacketstore DOT com / route / b65ffaead5b87a47
Give a heads up to your folks if you still have them, as well anyone else you think might benefit from this information.
Hope that's helpful.
Regards, Andrew