[Newsflash] Get a highly available system for cyber protection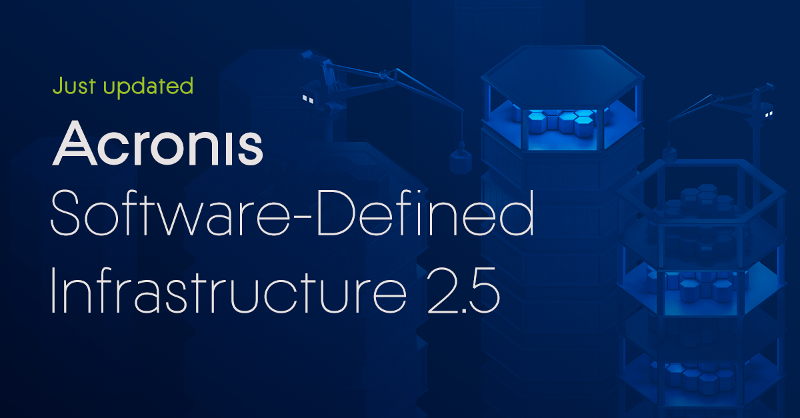 The hyper-converged infrastructure market is on pace to grow from $4.1 billion to $17.1 billion by 2023 and demand for cyber protection solutions is a big reason why. Managed service providers have the opportunity to claim their share of the market by delivering cost-effective, efficient and secure cyber protection solutions – but it requires the right tools.
The new
Acronis SDI Appliance
ensures that IT pros can access a highly available system, which combines universal storage and high-performance virtualization.
Using just one efficient and secure solution, you can guarantee data safety and authenticity by delivering cyber protection services that meet today's IT demands:
- Simplify cyber protection tasks
- Ensure high availability and resiliency
- Access reliable, affordable hybrid-cloud data protection
- Get integrated support for virtualization and beyond
- Achieve superior performance
Meet the Acronis SDI Appliance
The
Acronis SDI Appliance
is a new plug-n-play solution with pre-configured Acronis Software-Defined Infrastructure software that gives service providers and enterprises ready access to a fault-tolerant system, which combines universal storage and high-performance virtualization.
Easy to install and operate, this compact 3U appliance consists of five nodes with total raw space up to 180TB. It's possible to instantly deploy it as a back-end for cyber protection solutions like Acronis Backup, Acronis Backup Cloud, Acronis Files Cloud, or other applications, or use it as shared storage for general needs like documents, graphics, and video files.

Simplifying cyber protection tasks for IT

With the new appliance, partners and customers gain an easy way to store and manage data protected by Acronis. It also addresses the five vectors of cyber protection — safety, accessibility, privacy, authenticity, and security (SAPAS) — a comprehensive approach that
ensures easy, efficient, and secure protection for all data
, applications, and systems.
Ensuring high availability and resiliency

Customers have trusted Acronis to deliver cyber protection solutions that ensure high availability and resiliency for more than 15 years. Since the Acronis SDI Appliance is the basis for many data protection tasks, it is crucial that it eliminates downtime and prevents data loss – no matter what happens.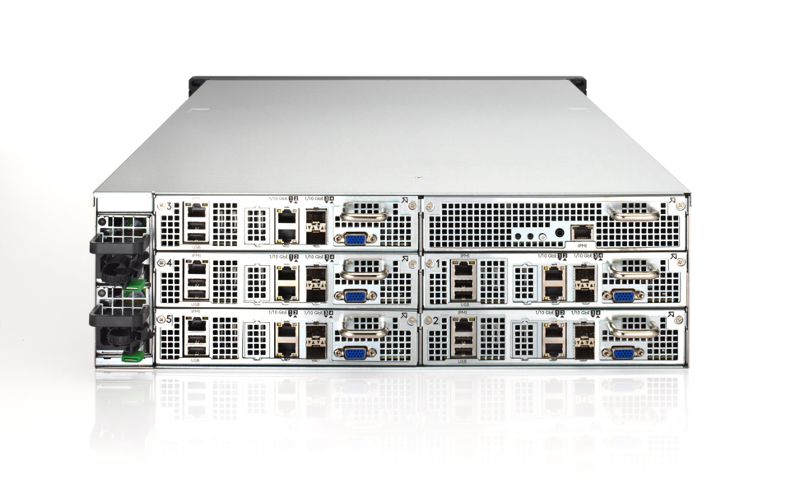 Besides hardware built without a single point of failure, Acronis leverages multiple advanced software technologies to eliminate service downtime:
- Roll out upgrades for system software without rebooting, even when a critical patch should be applied to Linux kernel – that's how built-in ReadyKernel technology works
- Protect data even if two out of five nodes fail with Acronis CloudRAID erasure-coding and replication technology
- Count on data integrity using data checksumming and scrubbing with automatic storage self-healing
Making reliable, hybrid-cloud data protection affordable

The Acronis SDI Appliance appeals to customers looking for a prepacked, reliable, hybrid-cloud data protection solution that fits their unique business model – Acronis offers attractive pricing and flexible licensing. As an all-in-one solution with clear, fixed, per-GB pricing for its software, it's easy to control costs. Plus, it works out-of-the-box so users avoid hours spent assembling, installing and configuring software.
Delivering a universal, integrated system

While Acronis' primary goal in building the appliance was that it worked optimally with Acronis Data Cloud's suite of products, the Acronis SDI Appliance goes further – providing integrated support for many workloads, use-cases, storage types, and open standard APIs as well as virtualization and software-defined networks
Minimizing IT workloads with built-in management and monitoring tools was a top priority, too. IT pros can expect all systems to run smoothly and have the ability to troubleshoot problems before they impact end-users or third-party systems via a single pane:
- Streamline operations with an intuitive, graphic user interface
- Obtain detailed status information from the pre-integrated Prometheus engine and pre-configured Grafana dashboards
- Monitor nodes, disks, network, latency, performance, storage services, virtual machines and more
Achieving superior performance

To achieve great performance, Acronis leverages a well-balanced hardware and software combination to deliver storage that's five times faster than Ceph on similar hardware – the result of integrated SSD caching, automatic load balancing, and parallel replication.
For virtualization, Acronis provides highly-tuned drivers for Windows and Linux that deliver first-class VM guest support and the ability to set storage policies and redundancy options for each virtual machine.
Guaranteeing data safety and authenticity

As with all of its solutions, Acronis' primary concern when building the solution was to make sure that the Acronis SDI Appliance would keep customer data safe, accessible, private, authentic and secure.
Now you can work with an innovative cyber protection platform that leverages the long-trusted power of the Acronis AnyData engine and provides embedded blockchain-based certification that guarantees data authenticity, secures and isolates networking via VXLAN encapsulation, and is based on distributed virtual-switching technology.
Get more information about Acronis Software-Defined Infrastructure and Acronis SDI Appliance at
go.acronis.com/Appliance