Microsoft Access Query is Corrupt errors.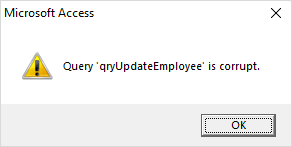 Earlier this week, Microsoft released several Security Updates that caused update queries in Microsoft Access database applications and programs storing data in Microsoft Access databases to fail.
An erroneous Query is Corrupt message appears.
Affected Programs
This impacts
Microsoft Access 2010, 2013, 2016, 2019 and Office 365
32 and 64 bit versions of Access
Applications that use the Access Database Engine (ACE) such as those written in Visual Studio .NET, VB6, and even web solutions that update Access databases.
Detailed Article with Multiple Workaround Suggestions
Our customers encountered this confusing error, and our team investigated and published an article to explain the issue and how to mitigate it. Microsoft announced they will fixed this in the next security update in December. That's hardly acceptable for applications that were running perfectly fine on Monday. Hope this helps.
Microsoft Access Query is Corrupt Error 3340