Hi Everyone,
Hands up those of you who
don't
like to save money.
I don't see many hands, so I thought I'd share a method with you that saves me money almost every week so that you too can benefit from my discovery.
I've tested
this browser extension
extensively
over the past couple of months and can confirm that it works, while not interfering with your browsing experienced at all.
The extension is called "
Shopback
" and here's a snapshot of my own account, showing how much money I've saved, and withdrawn in just over two months of using it. And, with virtually
zero effort
on my part.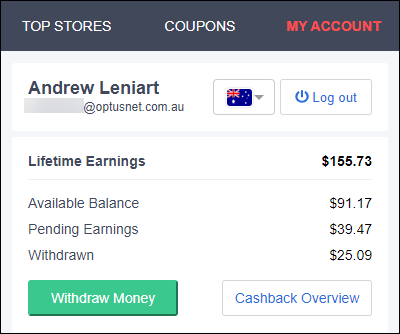 It's seamless, works in all browsers and doesn't bug you unless you are purchasing something online that it can offer you refunds for.
I see no reason why anyone would not want to take advantage of this great extension, so I suggest you give it a try.
You've nothing to lose, yet free money refunds to gain so I hope that it helps. Check it out from the following link:
Shopback Extension for any Web Browser
As a bonus, when you sign up using the above link (takes only a minute or two), you will also be credited with $5.00 just for joining.
Happy savings and refunds :)
Hope that's helpful.
Regards, Andrew