Hi experts,
I am having problems setting the resolution to the native resolution of the monitor (Samsung SyncMaster 305TPlus). The monitor supports two native resolutions according to the technical specifications on the Samsung website, both 1280 x 800 & 2560 x 1600 using a Dual Link DVI-D cable. In the Windows display properties the maximum resolution offered is 2048 x 1536. If I use the Nvidia control panel and add a custom resolution of 2560 x 1600, the resolution works but does not fit the monitor properly and the mouse scrolls horizontally/vertically.
Here are the facts...
- PC is a Dell Optiplex 780.
- OS is Windows XP Professional (SP3)
- Using an Nvidia Quadro NVS 420 graphics card. This card supports 4 monitors at 2560 x 1600 according to the Nvidia technical specs.
- Using the latest Nvidia WHQL driver (197.90).
- Using a DVI-D (Dual Link) cable with all pins (as depicted in the attached screenshot).
- The Nvidia control panel detects the monitor & it's native resolution, however when it is changed the resolution is too big for the screen and it scrolls when the mouse is moved to the corners.
- The display & graphics card are HDCP capable.
- The monitor driver in use at the moment is the default Plug & Play monitor. Samsung does not have a 205T driver available.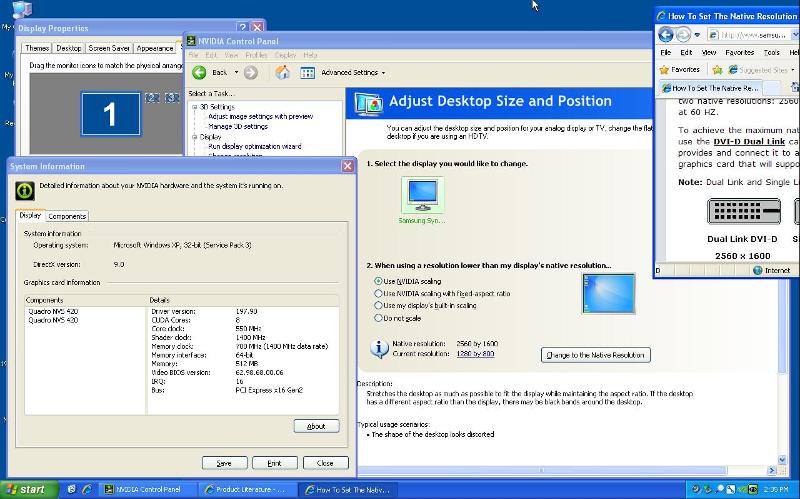 If anybody knows what needs to be done to get this to work, the help would be greatly appreciated. From what I have researched so far, everything is being done by the book and this should work.
Regards.