We have been testing a terminal server RemoteApp configuration. We are currently using all of the functionality on one server, however the plans are to separate the TS Gateway and TS Web Access onto one server and we will end up with about 6 terminal servers. (We currently have the same configuration using Citrix Presentation server and 7 Citrix Servers).
The issue comes in with the connection. Users are connected to the website using citrix.xxxx.com, which is the certificate that we currently own. Once the user clicks on an application and then authenticates to the internal domain, they receive a certificate error from the internal terminal server that the certificate is not from a trusted authority.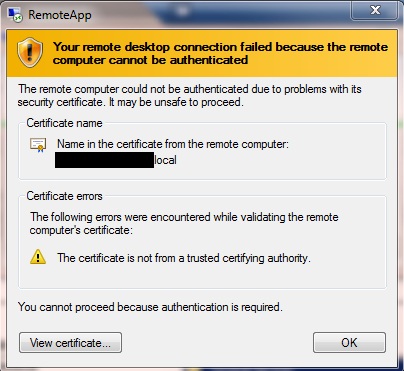 1. Do I need to purchase trusted certificates for every internal terminal server?
2. If not, how do I get past this error? I've tried using the citrix.xxxx.com certificate for the terminal server RDP properties certificate, but then the user gets a name mismatch error.
Note: All of the users are outside the network and would not have access to any of the servers, except through the Terminal Server Applications.