I think it has something to do with applet security.
When I launch it via command console using this:
@ECHO OFF




@TITLE weka client




C:




CD \wamp\www\mystikrpg




appletviewer -J-Djava.security.policy=game.policy weka.html



it works all fine and dandy.
However when I connect to via browser by going to
http://localhost/mystikrpg/weka.html
using this applet code:
<HTML>




<BODY>




<applet code="tileGen" archive="client.jar" height="522" width="580">




<param name="name" value="weka">




</applet>




</BODY>




</HTML>



... things will go awry. First of all any other connect player's jtextfield will go missing (see attached pictured)... secondly the client will stop tracking player's movements.
here's the interesting part. the server will still keep track of player's movements and who's connected.
So... uhm... this is really a bug i have never faced before. I have never dealt with applet security like this. :S
here is the image. i am using google chrome to control "Test" players.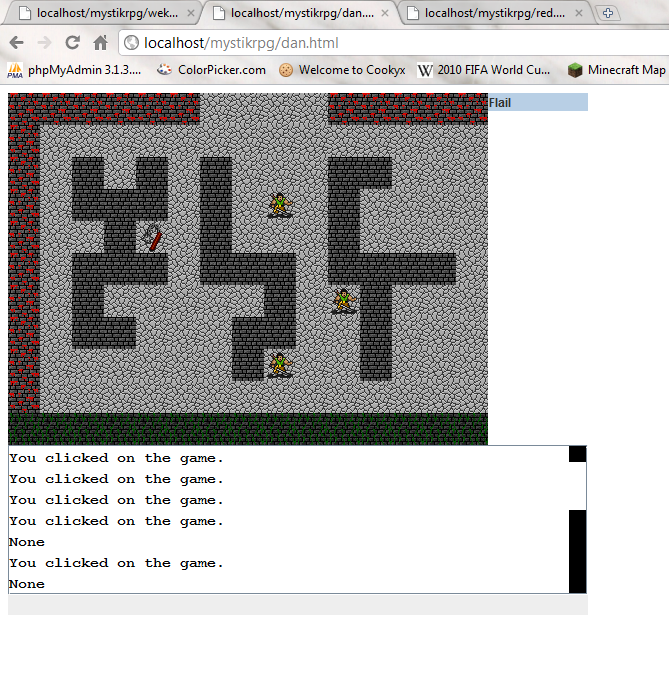 There someway to fix this and still have the same security as if launched via the batch commands?
fun fact: if i am on the same browser controlling 2or more players.. let's say i move player 1 to map 2... well then player 2's screen is now drawn to map 2... weird.