I am looking to add a 2nd ISP to our main site which is currently using a 3640 as our internet router (NAT), and a 2821 as our Firewall/Inter-VLAN router (Router on a stick)... One of our remote sites is connected to the internet using an 1841, and utilizes VPN to connect to the main site... I'm looking to change the way the remote site connects to our main site by utilizing GRE over IPSec,,, and I was wanting to see if we can utilize both ISPs at our main site for redundancy on the vpn connection. The diagram below shows what I would like to accomplish, but I am not sure if a trunk between the 2 routers would work the way I want it to or not. I can't find much documentation about trunking between routers... Also I am not fully sure if using subinterfaces between the routers would limit functionality compared to using just the physical interface on 1 subnet?
Basically I want to create 2 seperate GRE tunnels on the 1841 at the remote site, to tunnel to each IP on the 2821 subinterfaces at the main site. The trunk link between the 2821 and the 3640 would require public subnets from the 2 ISPs because NAT would cause issues. I want the GRE to terminate on the 2821 because the cisco 3640 doesn't have a crypto IOS and the 2821 has vpn hardware builtin to the motherboard...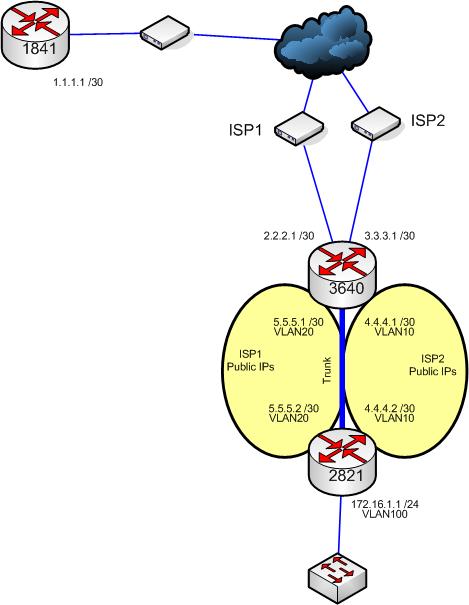 Would this work or can you forsee any problems? Thanks!