Hi All,
We are achieving Folder Redirection through GPO, we have a couple of problems and questions.
We have created firstly a folder and applied the following NTFS and Sharing Policy;
Folder Created and NTFS permissions applied are :
we romved the following check box under the advanced button under security tab.
"Allow inheritanle permissions from the parent to propogate to this object and all child objrects. Include these with entries explicitly defined here."
We then added Adminitrators and Domain Admins full controll was appled, then it was allowed to apply to "this folder, subfolder and files"
We then added Domain Users and only allowed List Folder / Read Data, and only applied it to this folder only.
We then shared the folder and also made is a hidden share using the share$.
We then shared the folder, applied adminitrators, domain admin and domain users and gave them full control.
Now my question is as follows :
When using Group Policy Management and creating a policy for folder redirection, once settings are applied like so,( see image below ) why is the folder not automatically generated like when creating a home folder ? once we manually creted the users folder only then would the sycnronisation take place ?: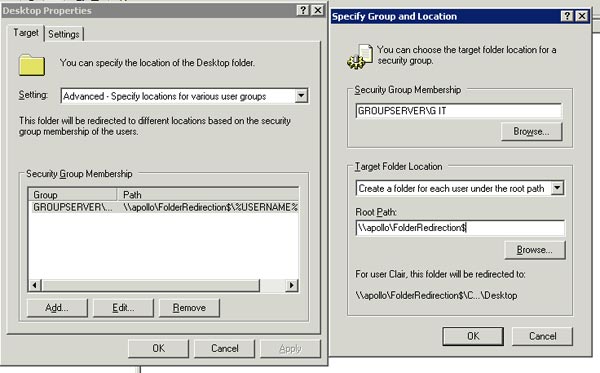 One last question, we need offilne folder sync performed, how do we also set this up on the redirected folders ?
Would we go the the file on the server, select the folder ( root share folder ), go options, caching and allow offline sync ?
Sorry we forgot to mention>
When we had to create the users folder in side our share, we created folder with name, and applied the followig security permission :
Administartors and Domain Admins : full controll
User in question : Full controll
Once other question we would like an answer to is, why can we not open the i.e. desktop or documents folder on the server, when we are logged on as a administrator with full rights, we cannot access the users folder, is it because we do not have owenership permission to the contents within the folder ? error recieved on server "F:\Folder\Redirection\use
r\sedktop is not accesible, access is denied "
User can see there own files of course if navigating to the share.
Thanks Dav