When I attempt to archive my Outlook I get "errors occured while archiving" messages as shown by the screen shots.

The archive log just gives me error messages but no reason why.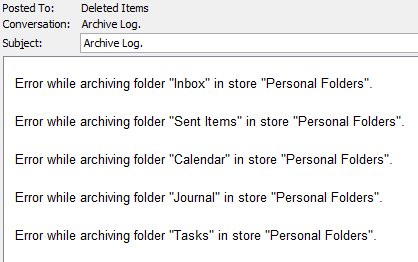 I have run "detect and repair"
I have checked the archive settings and they are pointed to correct location
I ran outlook in safe mode, still no luck
Outlook PST file is 1.7GB. I had pared it down to see if that would help.
Also when I attempt to compact it hangs up and I get spinning hourglass.
Running Windows 7 Home Premium.
Archiving worked fine a week ago. I have not added any new programs. I did have a windows update session a few days back.