Hi guys,
one of our servers on our network is not behaving. It is a Windows Server 2003 R2 however still only on SP1, it runs Sophos Antivurs (managed) on it.
It is a virtual server on VMware ESX 4.0
It hosts an internet share of about 1.3tb, and a document management suite, it also hosts users home drives
As of last week, the server crashed showing the following error upon reboot
the system had rebooted due to an Unresponsive System: Error code 1000008e, parameter1 c0000005, parameter2 bfa01398d, parameter3 f100c7c8, parameter4 00000000.



The server seemed to be OK after this until yesterday, it crashed again with a BSOD showing an error relatin to vmx_fb.dll (VMware SVGA driver?) So it rebooted again! Everything seemed to come back OK
Today, the server has not crashed as yet, but user shares for our main share drive and H drives keeps dropping out, a restart of server, workstation and computer browser service on this server seems to fix ths issue temporarily but seems to drop off again and come back by itself as of late
We are starting the think virus for sure, so we attempted to run a scan with our AV and got the following errors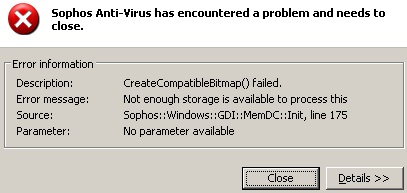 So now we are stuck, unable to run AV check, and the server shares dropping on and off.
Please help