Hi
I am using microsoft access 2003 to write a front end to an sqlbase database. The tables from the sqlbase database have been linked into the database using an ODBC connection. This all works fine when I make the connections. However, when I reopen the database, if I want to use one of the tables, I have to fill in the same dialog box that I have to when I connect the first time.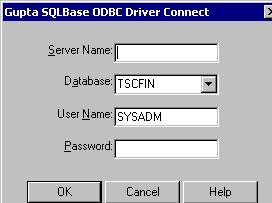 I would like to be able to bypass this and have that open when I open the first form of the database application.
I am sure I will need to provide some extra information - but not sure what else at this stage.
I am also not sure about the difficulty of this question - to me, if it is hard enough to submit here then it is hard - all relative to your knowledge base I know. A solution would be very worthwhile to me - hence maximum points.