Hi all,
I have site that uses RAD Upload Plus from RADinks to upload user files. I have 5 of these uploaders on one page. Until recently anything worked great with no errors. Now all of a sudden when the page first loads i get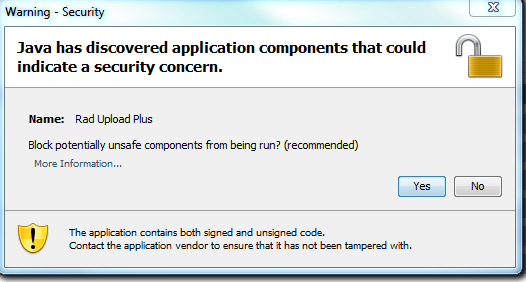 I get this at least once for each up-loader on the page. even when I select No don't block the page and up-loaders does not work.
I think the issue started when I installed IE 9 beta. But I can't be sure because the issue occurs in Chrome and Firefox and of-course IE 9 .
Do you know if installing EI 9 would change any internet option settings that would effect the other 2 browsers?
I am using windows 7 64-bit, Visual Studios 2008, C#, ASP.Net
Thanks for your time.