Hello all,
Exchange 2010
Server 2008
I followed (as closely as I could) steps from this page:
http://technet.microsoft.com/en-us/library/bb124948.aspx
Here is a screenshot of my current attempt: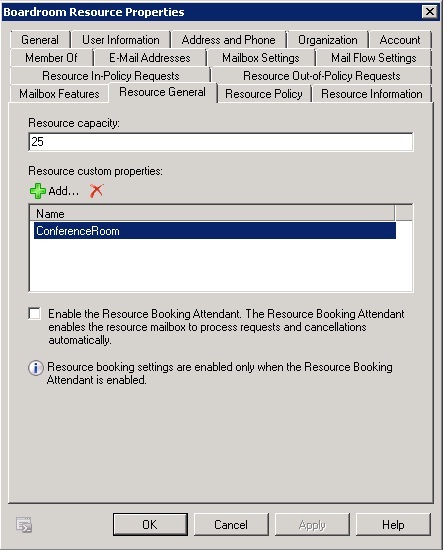 It "looks" okay. I have myself as the Delegate, and I have it to forward meeting requests to me (for testing).
The problem is when I request a meeting with a test account, I choose the attendees, choose the Room (Boardroom Resource *does* show up), and I hit send: It behaves like any normal meeting request.
I guess my understanding of this Resource Mailbox isn't correct. I want to be able to request a meeting and, upon approval, have that meeting with the attendees/notes/subject show up on a "Boardroom Calendar" so-to-speak. Something that every employee in the organization can open (calendar) and see what's planned or what's taken.
Make sense?
Right now after I send the test request, the meeting shows up on individual calendars as expected, but I can't seem to see anything on the Boardroom Resource calendar.
Help?