One of my engineers is experiencing an incredibly strange issue with Office 2010 on his Windows XP x86 computer. About 70% of the time, when he opens a spreadsheet or document the task bar will show that Excel/Word has opened two or three blank sessions along with the file in question.

As you continue to open other documents or spreadsheets the number of blank instances continues to increase: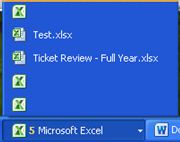 The only way to get rid of these blank items in the taskbar is to completely close the application in question and wait 3-5 seconds. The extra items in the taskbar then begin to disappear one-by-one.
We have restarted the computer and repaired Office, but neither item seemed to make a difference. It does not seem to be linked to any specific documents or spreadsheets - it just happens randomly.
Has anyone else seen this before? I'm not even sure what to Google to find out more information!
Any help you could provide would be great.
Thanks!