I know that this issues comes up a lot, but the specifics of this situation are quite unusual. I admin a network in my small office - 8 desktop terminals (wired), 2 laptops (wireless).
**ALL TERMINALS RUNNING WINDOWS XP SP3**
This morning, when turning on, like we do every day, nothing I am aware of having changed, two of the computers are able to connect to the network, but not to the internet (Limited or no connectivity coming up on the network icon in sys tray).
More over, one of the terminals acts as a file share system for other people to work out of - it is one of the terminals that cannot access the internet, but more over all the omcputers that CAN access the internet still cannot access the shared files on this PC.
You would think that this PC has a network issue, but weirdly, the one other computer that can't access the internet, CAN access the shared folders on it - suggesting network connectivity ok.
I know this is really complicated so I have drawn an image to help explain - this is a network map, with the status of each of the terminals illustrated: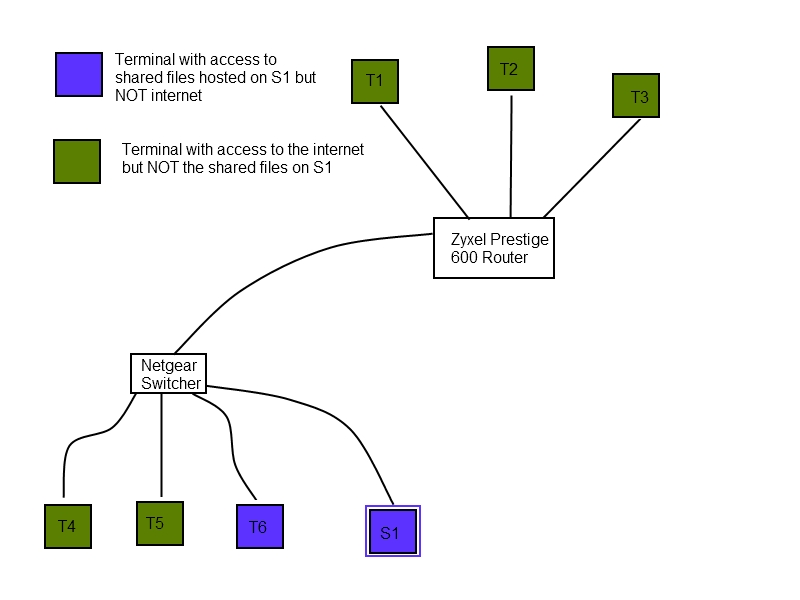 THINGS ALREADY ATTEMPTED:
- Turning off the router and the switcher, restarting.
- Restarting computers having issues
- Changing network cables
- Manually setting network IP for terminals unable to get to internet
I probably haven't explained this perfectly, I think this issue seems complex so it is well worth the full 500 points if anyone can come to my aid!