I have a similar problem with different complications:
The error presented on starting Outlook internally is: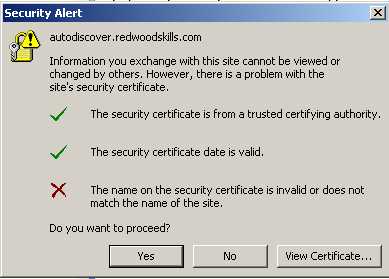 Externally my domain is known as redwoodskills.com and my GoDaddy SSL certificate references
redwoodskills.com and
autodiscover.redwoodskills
.com
For the external DNS redwoodskills.com is hosted by a 3rd party and autodiscover.redwoodskills
.com points to the company's external/internet facing IP Address.
The internal domain name (unfortunately) is redwood.co.uk which actually belongs to another 3rd party company, but as the systems are installed and in production this isn't something I want to change.
The company uses Citrix with a Secure Gateway Server that uses SSL port 443 for securing connections from remote users and the Firewall passes any traffic on 443 to the Secure Gateway Server.
I have configured OWA to use a different port for SSL and that works fine.
My problem started appearing after I had added the 'A' record for autodiscover.redwoodskills
.com to my DNS records held externally.
If I view the certificate it is referencing what I believe is the self cert certificate installed when I installed Exchange 2010.
Do I add an extra URL to my GoDaddy SSL certificate? If so which one?
Do I install the GoDaddy SSL certificate on my Citrix CSG Server?
Can I use the split DNS option and if so can you please give more specific instructions?
Regards
Brian