Hello all,
I have an issue with my production SCCM SP2 R2 server. It is built on Server 2k8 R2 Std. I have another Server 2k8 running SQL 2k5.
Every 1 hour and 5 minutes, I get this error:  

The details are: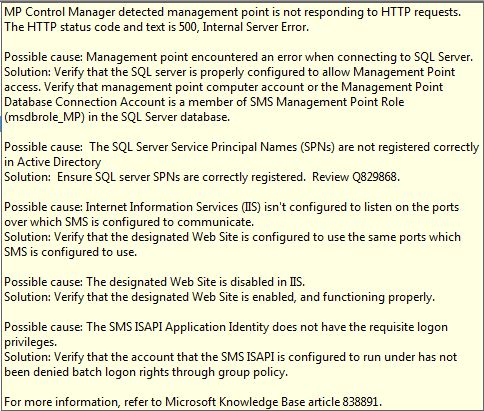 I have verified that the SQL server is properly configured to allow MP access. I have ensured that the SQL SPN is correctly registered in AD. IIS (7) is configured to listen on the appropriate ports. The Web Site is enabled in IIS. The SMS ISAPI Application Identity has the proper logon privileges.
This is my production environment. It has been running successfully since the first week of October this year. I haven't had a hiccough with it, until now.
If any experts out there have a suggestion, I would love to hear it. Otherwise, time to bust out the Microsoft Support number again.
Cheers,
Kevin