this is my javascript function:
<script type="text/javascript" language="javascript">




     function setDate(ddlVal) {




       if (ddlVal == 'Approve' || IsReject( ddlVal ) ) {




//	   if (ddlVal == 'Approve') {




             var Today = new Date();




           var date =   Today.getDate();




           var month = Today.getMonth() + 1;




             var year = Today.getFullYear();





           var   full_date = month + "/" + date + "/" + year;





             document.getElementById('_1_1_102_1').value = full_date;




         }




       else {




           document.getElementById('_1_1_102_1').value   = '';




       }




 }




function IsReject(myValue)




{  




    if (myValue == "Reject")




        {




            document.getElementById('ProjectManagerComments').style.display    = 'inline-block';




            return true;




      }




    else




     {




             document.getElementById('ProjectManagerComments').style.display    = 'none';




            return false;




     }




  }




</script>



this works on a unique basis - but now i need this to work for an additional 13 dropdowns - not just 1.
attached is a screenshot of the site.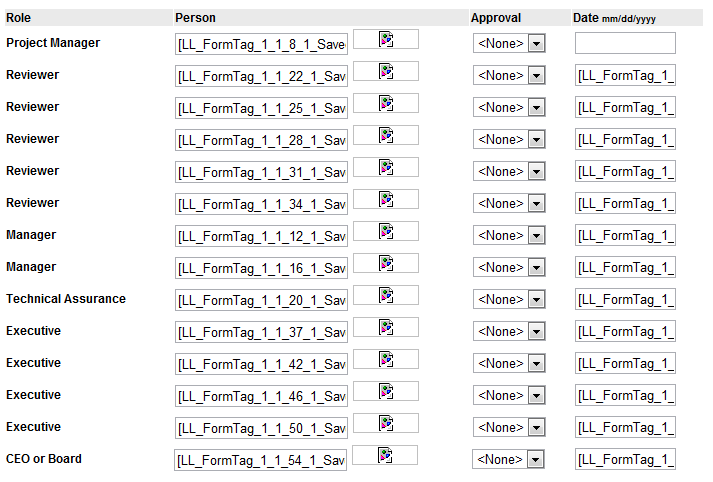 what the function does above, if the project manager selects APPROVE, the date is written to a text box. if REJECT is selected, a date is written to a text box and a hidden table appears.
in the screen shot you see 14 selection boxes. if the first reviewer selects approve, i need the date stamped to the txt box next to it. if the first reviewer selects reject, i need a table to appear.
this is already working for the project manager, but now it must occur for the remaining selection boxes.
my thoughts, create a seperate function for each individual selection box? or can we wrap it up into ONE function? if i called 13 additional functions within my html, does that go against any standards or recommendations? would it perform okay?
thanks!