Using Exchange2007 SP2 and Outlook 2007 SP2
I've created a simple policy to delete items from the Deleted Items default folder that were modified greater than 90 days ago. The idea is to give my users 90 days grace period AFTER they've deleted them (moved them to Deleted Items).
When I ran my policy the first time (last week) no messages were deleted. All items in Deleted Items, however, showed a modified date of 2010.11.10 (the time of the job run).
I ran a second test tonight and items that existed during the first run still have the 2010.11.10 modified date but anything deleted since then now have tonight's date, 2010.11.18. I'd like to know if this is expected behavior. If so, I'll let my manager know that I won't start purging items for at least 90 days, regardless of how long ago they were originally deleted.
I did run a different test which filtered based on deliver date. That worked as expected. I just wanted to make sure my settings were correct and the policy was properly assigned to the mailbox.
Here are my settings: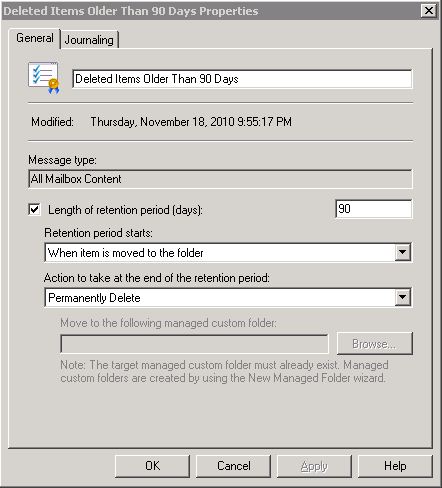 Managed-Folder-Policy.JPG
MRM-Assigned-Policy.JPG