Help me in writing the DOS command to accomplish the following:
- I have a windows Folder C:\Test1
- That folder has 5 text files (a.txt , b.txt,c.txt,d.txt,e.txt )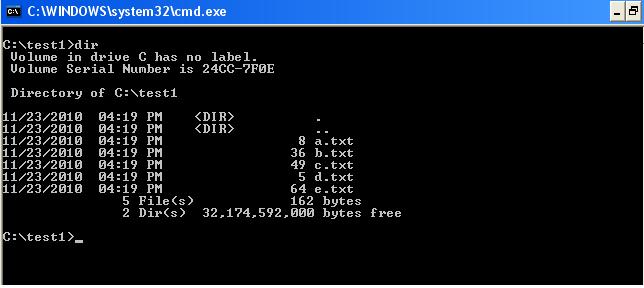 When I do a regular DIR command it will spool all of other attributes and header part
to the spool.txt file. But all I wanted to spool to the text file is the FILE NAMES (with extensions).
I wanted the spooled text file to show me as SPOOL.txt
1) Give me a windows batch file or any script file to accomplish this ?
2) Same script file as question (1) except that it should be able to spool file names based
on there time stamp. Let's say I wanted to get the text file names generated between
4:05 PM to 4:13 PM ?
- Now i wanted to write a batch file or script which I would be double clicking and it should
write a text file (Spool.txt) as follows: