the url localhost/guestbook seems to be using the application/layouts/script
s/layout.p
html file but not attaching the additional markup from application/views/scripts/
guestbook/
index.phtm
l which should be calling the database. I don't get any errors. It just returns the layout (see image guestbookLayout.png). The image file "shouldLookLikeThis.png" is what it is supposed to return at this point.
I am just getting to know the MVC pattern and still don't fully understand it.
Thank for any direction you can provide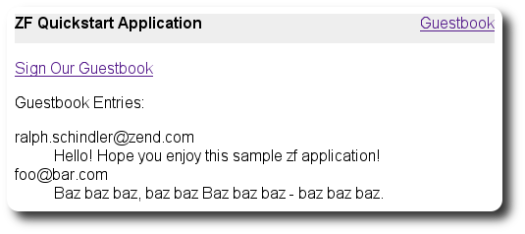 New info:
Fatal error: Class 'Zend_Db_Table_Abstract' not found in C:\Program Files (x86)\Apache2\htdocs\quick
start\appl
ication\mo
dels\DbTab
le\Guestbo
ok.php on line 4
something in the setting I guess.