Hi EE,
I created my first program in VS2008...a dialog-based MFC app called "Example". By default, the app wizard create Example.cpp and ExampleDlg.cpp with their corresponding header files.
Then, I added a "Functions.cpp" and its header, as a place to put some future math functions. But it's virtually empty right now.
Last, I added a simple button dialog that I can push to run a command. My code is below...can someone help me understand the "illegal call of non-static member function" that I get when I compile? Thank you.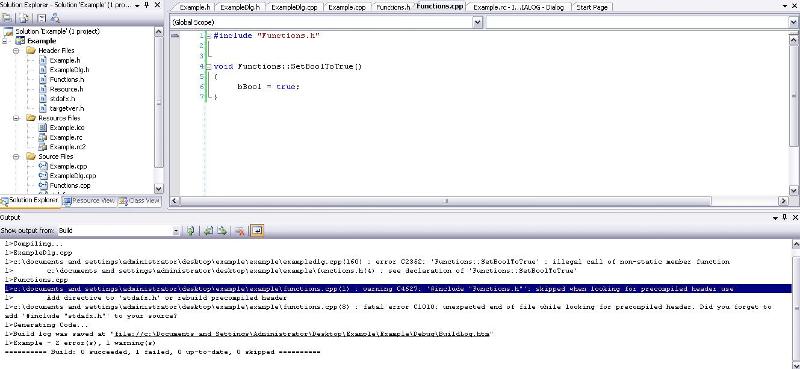 --------------------------------------




ExampleDlg.cpp




--------------------------------------




#include "stdafx.h"




#include "Example.h"




#include "ExampleDlg.h"




#include "Functions.h"





void CExampleDlg::OnBnClickedButton2()




{




	// TODO: Add your control notification handler code




	Functions::SetBoolToTrue();




}




--------------------------------------




Functions.cpp




--------------------------------------




#include "Functions.h"




 




void Functions::SetBoolToTrue() 




{	 		




	 bBool = true;




}





--------------------------------------




Functions.h




--------------------------------------




class Functions




{




private:




	bool bBool;





public:  




	void SetBoolToTrue();




};