Hello,
I'm having trouble with the filtering process in Excel (2007). I've got a spreadsheet with a variety of data in most of the cells in the range A1:BK2380. However, I only want to filter rows 65-1400 based on criteria in column I.
As shown in the following screenshot (Fig. 1), column I has a heading in row 1 and rows 2-4 are the necessary three rows for filtering criteria mentioned in Excel Help. Also, I've entered the filtering criteria ="=Met *" in cell I1.

In the Advanced Filter I entered the information shown in Fig. 2.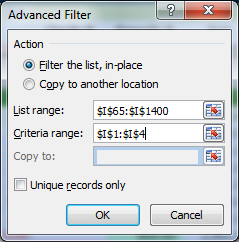 However, when I click OK, nothing happens. I know there are multiple entries in the list range which satisfy the filter criteria so I am obviously doing something wrong.
Any help would be much appreciated.
Thanks