Hi,
I'm attempting to setup my DCOM client-server app on a Windows 7 environment. For the purposes of testing I am just using this simple app provided by MS to get the settings right:
http://support.microsoft.com/kb/259011
I figure if I can get these basic settings right I can use them with my custom app as well.
Anyway, I copy the sample app to my client and server, run the recommended registry fix and all seems well - until I log on to my client machine with a profile that
does not exist on the server
. At that point I will constantly receive the "Access Denied" error. Forcing my machines to have identical IDs and passwords is not a practical solution in this case.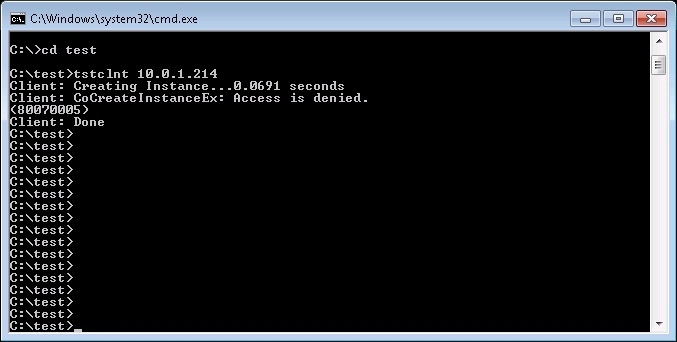 I have literally been at this for days - I have tweaked every DCOMCNFG setting imaginable on the server based on many of the other solutions I've seen here.
- I have set my default authentication and impersonation levels to "none" and "anonymous"
- I have edited the default access permissions and default launch/activation permissions to allow Everyone, System, Network, Network Service, Anonymous, and Interactive full control both locally and remotely
- I have changed the Sharing and Security Model is set to "Classic"
- I have turned off Windows Firewall (machines are on a workgroup) and disabled the AV software
- Of course, I have rebooted the server numerous times.
If you have a suggestion, I've probably tried that too :)
I cannot understand why I can only authenticate when the client and server are logged in with the same ID and password. Does anyone know how Windows 7 tries to authenticate with DCOM?
I am really getting desperate at this point. Any ideas will be most appreciated.
Thanks