Intent:
I want to pull the entries from a text file called 'test.txt' and run commands on them one by one via a batch file.
The text file is very simple.
Contents are computer names:
cha-smbdrm1-l
cha-blloyd-d
cha-mailroom-d
...
The reason I'm doing this is I have a list of computer names in our domain in a txt file, and I want to push a file to these systems that will disable a particular prompt for updates.
There are a thousand ways to do this, but I chose the Batch file because I'm a bit old school.
The logic runs like this:
Pull a computer name from the TXT file.
Map a drive to that machine.
Copy a file from my machine (or a network location haven't decided yet) to a particular folder on the target.
Remove the mapped drive.
Pull the next computer name from the TXT file...
And so on and so forth.
Here's my batch file:
setlocal 




FOR /F %%a in (c:\test.txt) do call :SUB %%a





:SUB





if exist z: (net use z: /delete)




net use z: \\%%a\c$ /user:domain\username Password




copy c:\mms.cfg z:\WINDOWS\system32\Macromed\Flash




if exist z: (net use z: /delete)




  if errorlevel 1 (goto :EOF)




  else (ping -n 2 127.0.0.1 > nul 




  goto :SUB)





:EOF



I'm sure I have the exit strategy wrong with where I have the :EOF being called, but I'm more concerned with the fact that the FOR /F doesn't seem to work.
My results from running this script are mixed.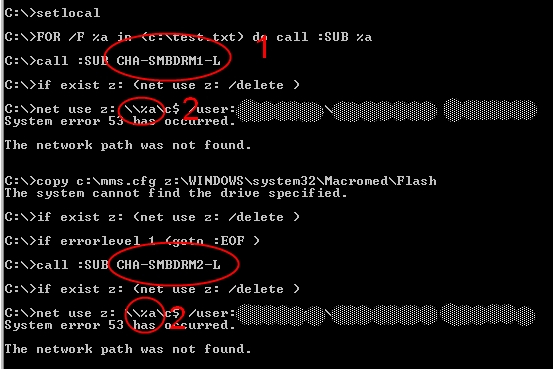 1. You can see that the FOR /F command seems to be picking up the correct %%a variables, as it shows it marching through the test.txt file, and taking cha-smbdrm1-l and then cha-smbdrm2-l.
2. However in 2 you can see the variable in the sub routine, which I have specified as %%a is not being correctly filled in.
WHAT I'VE ALREADY TRIED.
1. In the sub routine I've already tried putting in %1 as the variable. This makes the script work, but it keeps repeating only the first entry in the test.txt file. The %%a keeps changing, but the variable entered keeps being the first entry.
2. setlocal EnableDelayedExpansion - tried that and put in a set var1=%%a under the FOR command, and referenced it in the sub routine with !var1!. Same result as if I put in %1 as the variable.